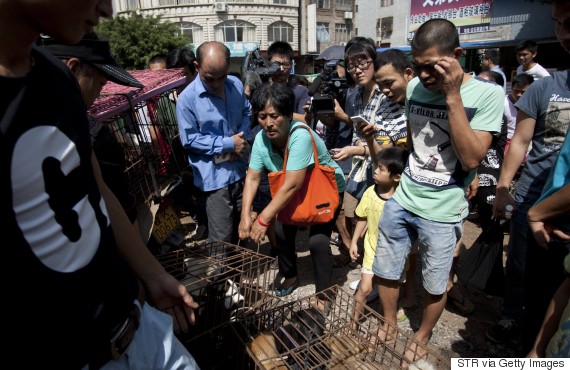 Yang Xiaoyun is
restoring our faith in humanity, one dog at a time.
To date, the 65-year-old retired schoolteacher and animal advocate has saved 100 dogs since Saturday from the scorned Yulin festival, the annual dog meat-eating event in the southern Chinese city.
Xiaoyun travelled about 1,500 miles from Tianjin city, and shelled out ¥7,000 (about USD $1,100) from her pension to save the canines. She plans to relocate the dogs in a new habitable shelter.
This wasn't her first attempt at rescue. Last year, Yang rescued 360 dogs from the annual festival.

She

has also successfully converted her Tianjin home to a safe house for

nearly 2,000 

companion animals, comprised of 1,500 dogs and 200 cats.
Activists, celebrities
,
and others have protested against Yulin's festivities through 
hashtags
 and 
petitions
. When words and legalities just didn't cut it, Xiaoyun went her own way and did what she could on her own.
Of course, there's a long way to go when it comes to fighting for animal rights. But until we've stopped Yulin
festival
 completely, that's one battle we're proud to win—with the likes of Xiaoyun and 
other animal advocates
 leading our worldwide victory.
Photo courtesy of  STR/ AFP/ Getty Images