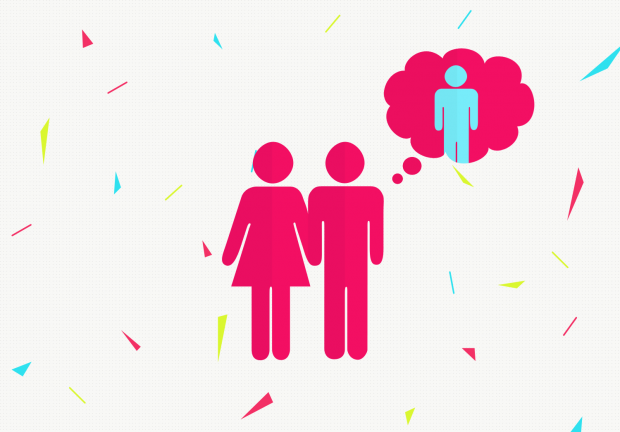 Let's get one thing straight: Your boyfriend isn't.He's smart, funny, cute, and sexy, and he secretly likes boys, too—wait, what?In this day and age where sexuality is as fluid as his peppermint moisturizer, and stereotypes have been debunked, there's no sure way of telling anymore if your boyfriend would rather play for the other team.

How do you know, then, if your boyfriend also wants a boyfriend? We really can't tell exactly. But take it from girls who've been there. These women share more than affection with their boyfriend: they both have a thing for closets.

The missing clothes

Then 17-year-old Andie* was a college student who had her doubts about her ex-boyfriend, a basketball varsity player, who made her friends a little suspicious. For them, it was the little idiosyncrasies that gave him away—the high-pitched laugh, his soft mannerisms and whenever she would call him out on it his defense was he got from growing up with sisters. Pretty valid.

What didn't help was when the guard at the guy's apartment told Andie that he often saw her boyfriend hanging out with an openly gay "guy friend" a lot. But she brushed off that report, too.

She lost her virginity to him, only to find out one week later that he needed to "find himself." He said he wasn't ready for a relationship.

Recovering from the breakup, Andie tried to dress up for a day out, when she noticed that a pair of short shorts were missing. Weeks after that, she saw her ex donning the very same pair.

The biggest homophobe

The New York Times reported that some homophobes are people who have repressed homosexual urges. Vicky*, now a writer in New York, was with a typical guy whom she describes to be half-player, half-asshole.

Physically, he was beautiful, according to her. He had a well-toned body. He was tall, and really handsome. "But he would affect gay mannerisms like limp his wrists and drawl but ironically," says Vicky, "he would overcompensate by making fun of gay people right after."

What gave him away then? First, she felt to her core that he really didn't like women. She learned that "he hated women who dated successfully" (those who are happily coupled up) and was emotionally cruel to them. Second, whenever he got drunk, he would make comments like, "That's a pretty guy," and he'd talk about how he had "nice legs."
He was my stylist
I once complimented Shana*, my model friend, on how good her outfit was. She said, "Oh, Toby* styled my outfit today." Now, Toby officially has a boyfriend. We all knew way before she did.
"I didn't know he was gay!"
Yes, just like in most cases.
From the get-go, Sam*, a publishing assistant, had a friend who told her, "He might not be your type because you might not be his type." (Read: He's not into girls.)
He wasn't into sports either, and he was "gentler than the usual macho guy." But for Sam, "those weren't signs." Despite that, they were on and off for a year. And when—surprise—he told her he was gay a year after they broke up, she was actually happy for him. He even told Sam a secret: That he was secretly crushing on her boyfriend right after him.
This week, Sam would get to meet her ex-boyfriend's new boyfriend.
In the end… 
In these situations, the issue is not that the boyfriend is gay—it's being in a relationship with someone who isn't truthful to himself and to you, and he's also stuck in a relationship that doesn't feel natural to him.
So unless he farts glitter, we really can't tell just yet just how to know if your boyfriend is gay. The only thing you can do is to listen to your gut, and hope he figures himself out.
*names are changed to preserve anonymity
Art by Dorothy Guya