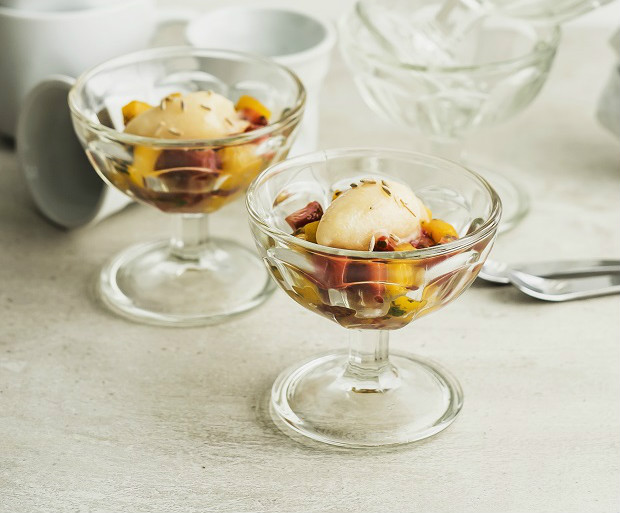 Keep your mood light, even though the sweltering heat is far from cool with a sorbet, and you'll never suffer while waiting for refreshing rain.
Unlike ice cream, sorbet is simple to make as it doesn't need milk, cream, or gelatin. You can just take your favorite flavors and blend them in water. This also allows for a lot of room to experiment. If you think the calming taste of lavender might clash with the sweetness of lychee, this recipe will make you think again. Interestingly, a hint of pesto will serve as a surprising contrast to all that sweetness.
Follow this simple recipe and you can start looking forward to the coming afternoons, humid or not.
Ingredients
1 pc. mango
4 pcs. strawberry
2 cups basil
1 pc. garlic clove
1/2 cup olive oil
Salt
2 tbsp. dried lavender
1 can lychee
3 cups sugar
3 tbsp. lemon juice
Preparation
1. Heat 500 liters of water with dried lavender for 30 minutes to infuse the flavor.
2. Strain the infused lavender, and add sugar until it thickens.
3. Blend the lychee until liquid.
4. Mix the infused lavender, lychee juice, and lemon juice in a bowl. Cover with cling wrap, and put it in the freezer for about 12 hours.
5. For the pesto, blend the basil, garlic, and olive oil, then add a pinch of salt.
6. Slice the mangoes and strawberries into small cubes.
7. Mix the fruits and pesto sauce in a bowl.
8. Once the infused lavender and lychee have frozen, blend the mixture until smooth. Place it in a stainless bowl and let it set in the freezer for around 30 minutes.
9. Place the mango and strawberry with pesto on a cup or dessert plate, and top with the sorbet.
Photo by Gabby Cantero
Source: Charlie Carbungco for Northern Living, "Provence in a Cup," June 2015.