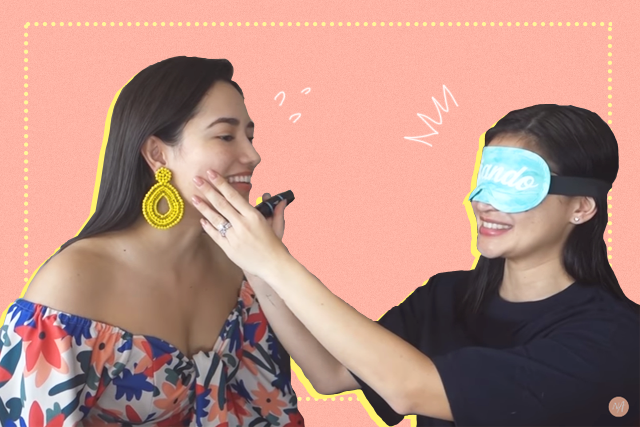 Nicole Andersson did something interesting for her beauty vlog, with Anne Curtis as her guest: the blindfolded makeup challenge. Basically the celebrities will both do each other's full makeup blindfolded, using BLK products. "We're gonna see kung kaya akong pagandahin nito." Nicole said. "Anne, gandahan mo, because now that I'm single, kailangan ko na ng help mo." She asked for something she could wear on a date night "Gusto ko yung pag lumabas ako sa Poblacion [mapapalingon] yung guys, like, 'Sino yun'? I want like a head-turner look." Anne (who didn't have any makeup on and was wearing a large shirt but still managed to look gorgeous) on the other hand, wanted something she could wear while on set for showtime. Beyond the challenge results, there were plenty we've picked up in the video.
Anne is a very hands-on mom to her baby, BLK Cosmetics
Okay, we're all aware Anne is an amazing girl boss, but this video revealed how hands-on she really is with the production of each and every one of her BLK products. We gotta say, it's impressive how the challenge of being blindfolded didn't seem as daunting to her because she knew everything by heart. Even Nicole said so. "Anne in fairness ah, nag practice ka ba kagabi?" She revealed that she chooses all the packaging of her products, so she could easily identify them even with her eyes closed–and even beyond that. Referring to the contour palette, she said, "Kabisado ko. Contour, highlighter, blush." (Pointing to the respective palettes correctly, still with her eyes closed)
It also seems she's involved with the whole production process, which doesn't just stop once the product is released. For instance, with the BLK powder, "I really wanted it to be translucent. That's where we had a problem because not all people like super light face powder," she said. "So when we did this, it was super light and sheer, and then we listened to our consumers and they wanted more coverage so we had to redo it."
She also revealed she tests them herself before launching. "There's actually something coming out soon that [Robbie Pinera] has been trying on me. Something to look forward to next month." We'll keep an eye out for that.
On finding The One
Seeing as Anne already found her true love, Nicole asked her for some dating tips. Her advice? "First enjoy it. I'm not saying like go around and date random people. Just take your time choosing first. Really get to know the person before choosing the final one that you really decide on spending, you know. I can't say the rest of your life with diba, parang too early. But you know, you see that person as a potential partner; to lead in that direction." She added, "Don't waste your time on someone that you [can't see your life with]. Don't settle."
Nicole's love life
"The only thing that's complicated here is my love life." Nicole said when Anne discussed BLK's uncomplicated beauty philosophy. Nicole gave her friend credit during the video: "If I meet my husband tonight, I owe it all to you." Anne already has a simple yet powerful speech to her wedding: "I got you, girl."
Anne Curtis was way ahead of the contouring game
For Anne, contour is life. She said, "Kim K started that whole trend, but I've been doing it since the '90s."
Anne's LOVES Koreans
It's no secret she's obsessed with Korea and their culture. But to what extent, she revealed in the video. When Nicole mentioned she's never dated a Korean before, Anne said, "Kung di ako kinasal, maybe I would have [dated a Korean]." To which the beauty blogger responded, "Oh my gosh. Well Anne, you can't have them all. Give chance to others." Let's hope Erwan doesn't watch this.
Makeup hacks
Since this is technically a makeup blog, so we've picked up a lot of things, like:
1) Anne's makeup artist, Robbie Pinera blends eyeshadow all the way to below the eyebrows.
2) Anne likes to put highlights above the cheek and a little bit on the chin, while Nicole likes to put highlight on the highest points of the face 'cause she that's where the light hits. She shares her application techniques, too. "What I do is I start from the outside of your eye then I do a crescent moon tapos konti sa nose then konti sa forehead and chin."
3) For a drunk blush look, "yung parang naarawan ka lang," as Nicole put it, the technique is to apply two dots of tint on both cheeks, one on the chin, and one on the nose, and then blend. "Medyo pa-round para on the apples of your cheek and then sweep it across tapos medyo konti lang sa chin para natural and then we'll set it with powder."
4) On applying two eyeshadow colors, Nicole does it by applying the first one all over the lid, while the second on the inner corner of the eye, and then she blends. "I don't pull because eye area is sensitive. So pat lang. And that way it's still also very pigmented."
5) To achieve fuller lashes, Nicole share this tip: "I go to the end of the lash and then vibrate my hand outward kasi that way, you're separating the hairs of the lashes and then also it adds volume and it spreads the product evenly."
Oh, and Nicole has this very handy life hack for Anne when she can't get both brows right: "One side lang pakita mo [sa camera]. Kasi pag front, naco-compare."
For this challenge, Anne won the round. Watch the video below and let us know if you agree.
Art by Marian Hukom
For the latest in culture, fashion, beauty, and celebrities, subscribe to our weekly newsletter here  
Follow Preen on Facebook, Instagram, Twitter, YouTube, and Viber
Related stories:
LOOK: BLK Cosmetics' latest collection is inspired by Anne Curtis' travels
Does the BLK Cosmetics Bridal Collection last?
Are Anne Curtis and Erwan Heussaff planning on having their first child soon?
Anne Curtis switches from edgy to glam for the Buy Bust premieres