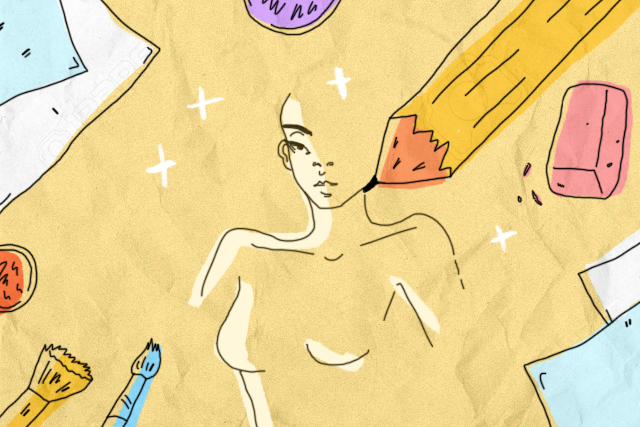 Art is everywhere and most of the time, we see them being shared on social media. This is especially true for celebrities who repost an artist's portrait of them. Today, we're putting the spotlight on some of these talented individuals regardless if you saw them on a star's feed or they popped up on the Discover page. Check them out below and feel free to hit follow if you like their stuff.
Denver Balbaboco
Denver recently caught the attention of designer Michael Cinco when he drew Kris Aquino as Princess Intan. The art style is reminiscent of the old paintings you see in ancestral houses or the National Museum. When you take a closer look, it's clear that he has an eye for even the smallest details. His other works include a poster remake of Pia Wurtzbach and Gerald Anderson's movie, the characters of Infinity War, and Margot Robbie as Queen Elizabeth I.
Jose Manansala
To pay homage to Anne Curtis' role in Buy Bust, Jose drew a portrait of her where she's bloodied and holding a knife. For his latest work, he recreated one of Bela Padilla's photos. And, believe it or not, he drew these with just color pencils. If you scroll through his Instagram feed, you'll see the amount of detail and realism that he puts onto all of his drawings and even tattoos. (He's also a tattoo artist and his ink looks sick!)
Nicky Roa
Also known as @skinnynicky on Instagram, one of his latest sketches he posted was a full-body drawing of Anne Curtis in a crystallized burlesque outfit by Amato Couture during her final concert. This was the exact outfit that Anne wore for her final concert. Nicky's art has a whimsical feel to them—smaller faces with big eyes, mostly—and in the past, he's drawn Millie Bobby Brown as Eleven and Dangerous Woman era Ariana Grande.
Mika Bacani
Mika's style has varied through the years, but what never changed was her penchant for fine lines, use of shapes, and colorful hues to create images that look comic book-like. In the past, she's illustrated Anthony Bourdain, Millie Bobby Brown, Lorde, and blogger Susie Bubble. Her most recent works show more minimalism by using shapes and lines to create something abstract.
Ivy Kirk
This New York-based illustrator was inspired by Heart Evangelista's Harper's Bazaar look where she's wearing a pink feather coat. Heart also shared the photo on her IG Stories and thanked Ivy for the fan art. Ivy uses soft brush strokes to create her works and often turns to runway looks and fashion editorials for inspiration.
Art by Marian Hukom
For the latest in culture, fashion, beauty, and celebrities, subscribe to our weekly newsletter here
Follow Preen on Facebook, Instagram, Twitter, YouTube, and Viber
Related stories:
Heart Evangelista stained her Hermés Birkin with cheese fries from Chili's
LOOK: Amazing artist from Cavite transforms into our favorite Disney characters
What you need to know about Kris Aquino's Michael Cinco gown
Buy Bust gets 100% on Rotten Tomatoes