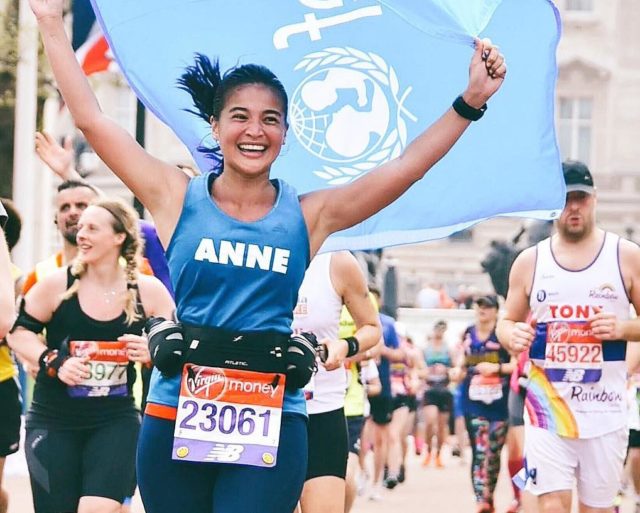 Anne Curtis is still on a London Marathon high as she posted more photos and a video of the experience. But our favorite is her message to her husband and number-one supporter, Erwan Heussaff.
In an Instagram post, Anne is seen giving Erwan a kiss on the cheek while showing off her marathon medal. She wrote, "To my number one cheerleader, videographer, photographer and support line. To the one that made an effort to meet me at mile 10, 21 and 24, THANK YOU. Your voice saying 'it's ok, you're almost there,' the tap on my shoulder and kiss on my forehead were all I needed to give me that extra push when I was about lose it."
You can also see the "It's okay" moment in the one-minute vlog that Erwan made for Anne. He comforted his wife while she was crying out of exhaustion during the race. Awww.
"Thank you for always pushing me to be the best version of myself even when I feel like quitting. Thank you for being the calm to my crazy. Je t'aime," she said on Instagram.
Anne finished 42 km in the London Marathon and she ran for the benefit of UNICEF Philippines. Her total time was five hours and 12 minutes. She also said on Instagram that she's willing to come back and do it again in the future Hopefully, Erwan will be by her side again to cheer her on.
Photo courtesy of Anne Curtis' Instagram account
Follow Preen on Facebook, Instagram, Twitter, and Viber
Related stories:
This Is How Anne Curtis Got Through the London Marathon
The Number One K-Beauty Product Anne Curtis is Obsessed With
A Celebrity-Approved Guide to London
Erwan Heussaff Reveals His Secret to Glowing Skin