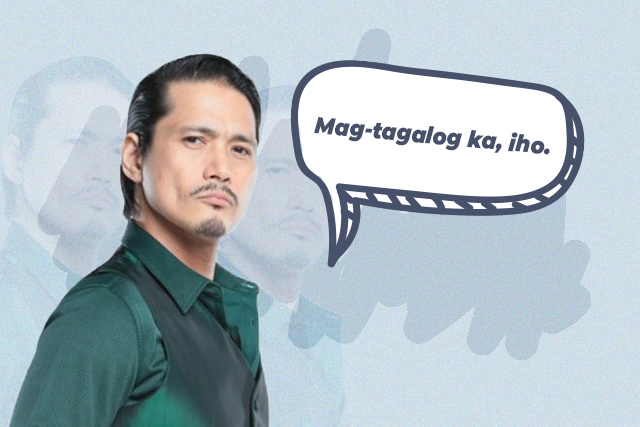 Robin Padilla has been the subject of scrutiny the past week after he forced a Korean contestant on Pilipinas Got Talent to speak in Filipino. On last Saturday's episode, aspiring magician Kim Ji-Wan looked humiliated when Robin started scolding him during his trick. Good thing Angel Locsin stepped in and volunteered to help out the contestant.
It was a hard video to watch, mostly because of how condescending Robin sounded. Okay, sure, Ji-Wan grew up and studied here in the Philippines. But should people give him crap for not speaking in Filipino? Absolutely not.
Consequently, Robin defended himself and said that his comments had patriotic intent. Like in the show, he kept emphasizing that he joined Pilipinas Got Talent, so Ji-Wan should respect our language. In an Instagram post, he wrote, "Always [fight] for your freedom to gain respect never allow a foreign power to intimidate you in your country just because they are rich. Be a proud Filipino!!!"
Also, isn't it ironic that he posted a photo of the KKK flag and wrote half the caption in English? It's as if he didn't scold someone for speaking in English in a Filipino show.
Here's another question: How come he didn't reprimand a Lebanese girl who joined PGT two years ago? She didn't speak Filipino as well, except for the occasional "po" and "opo." Is it because she didn't mention that she's lived here for x number of years? Or was it because she's a young woman and you wanted to respect her so you just let it go?
How about the other foreigners like Ji-Wan who will join in the future, don't they deserve the same respect? As many people already pointed out, English is a universal language spoken in any country, including the Philippines. If someone isn't learned in a certain language, we should let them communicate in any way that makes them comfortable.
Lastly, there are people saying that what Robin did wasn't racist. (Rude, yes, but god forbid it wasn't racist, they said.) Sorry to burst your bubble but it is. Racism is defined as seeing a certain race as superior to another. Robin imposed on this Korean national that he had no right to speak to him or perform if he didn't speak in Filipino. It's no different than when Americans tell off Latinos or Asians to speak in English because they're in the US. They're probably being "patriotic" too.
If there's any lesson here, it's that we should all be welcoming of all people regardless of their race and their ability to speak Filipino. We're always the first to condemn foreigners when they disrespect us in their countries, so let's not treat them like they're inferior as well.
Also, bless Angel Locsin for being a considerate and patient PGT judge. Seriously.
Art by Lara Intong
Follow Preen on Facebook, Instagram, Twitter, Snapchat, and Viber
Related stories:
Let's Talk About Being Racist As An Asian
Former American Apparel CEO Allegedly Calls Filipinos 'Pigs'
Sorry, Ladies: Robin Padilla Is Officially Out of the Smooching Business
The Ambiguous Case of Race in K-Pop
5 Local Female Celebrities Who Won't Take Your Crap