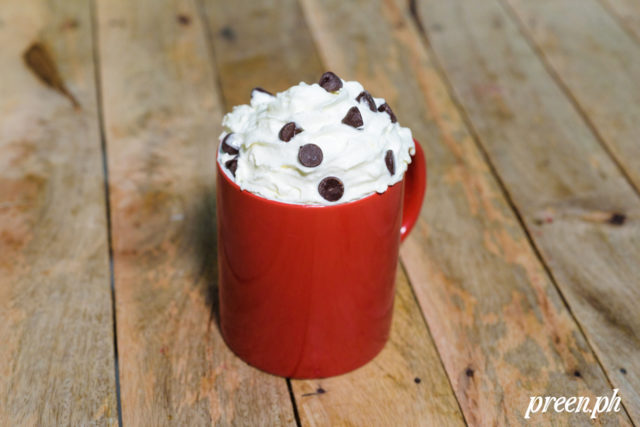 Bet you were expecting another "how to prepare ham for noche buena" article today, weren't you? Nope, we wanted to change up the holiday food picks for you.
We know that not everyone has the time to prepare a feast from scratch. People would opt for quick recipes or just order meals for their noche buena. While others are on the lookout for more variety in their Christmas dinner. With those in mind, why not whip up a mug cake for everyone?
There are many perks in making mug cakes: They're quick and easy to do, you can customize them, and you can make one for each guest. Convinced yet? No? Then you should watch and read our three-ingredient recipe below.
Red Velvet Mug Cake
Ingredients
6 tbsp red velvet cake mix
3 tbsp semi-sweet chocolate chips
4 tbsp water
Whipped cream (optional)
Procedure
1. Grab a microwave-friendly mug and add all the ingredients in it. Feel free to add more if needed.
2. Mix until the ingredients are well-incorporated.
3. Pop the mug in the microwave for one minute.
4. If you're an absolute sweet tooth, top the mug cake with whipped cream and chocolate chips. You can also add other toppings like sprinkles and mini-marshmallows.
5. Dig in and taste the warm, gooey chocolate in the middle. Mmm!
Photo and video by Nicco Santos
Creative direction by Lara Intong
Produced by Jacqueline Arias
Follow Preen on Facebook, Instagram, Twitter, Snapchat, and Viber
Related stories:
Mug Recipes that Will Save You Time in the Kitchen
Noche Buena Leftovers? Here's a Sandwich Recipe For You
The Easiest Way to Make a Mug of Hot Chocolate
Preen Gift Guide: Affordable Treats to Indulge Your Foodie Friends
Cater to Every Person in Your Life With These Treats