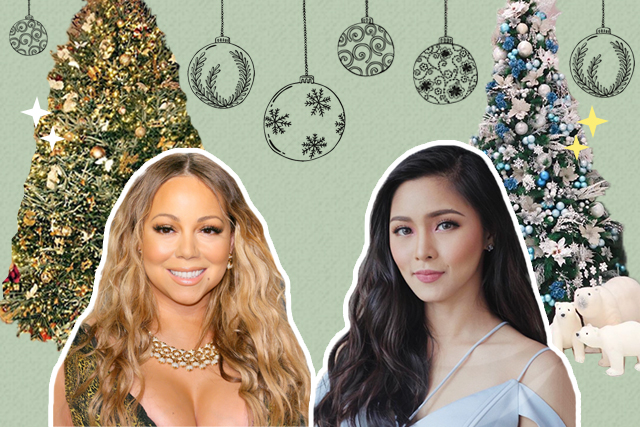 Christmas is a license to go above and beyond when it comes to everything. If you think you have enough lights, you most likely don't. We seriously won't judge you if you have one Christmas tree in every room. We also won't be surprised if you have a set of china and glasses put aside for the occasion. You don't hold back during the holidays.
This doesn't hold anyone back in trying to be the most extra. We know it's hard to stand out when people are doing everything they can to make it festive. But some people still manage to go the extra mile. If you still haven't got a clue on what to do at home for the season, take inspiration from these celebrities.
Kris Jenner
Kris Jenner must have an army of elves tucked away somewhere to get her decorations up. Architectural Digest counted just how much it takes a Krismas at the momager's home: a 22-foot tree, 10,000 lights, garlands as long as a football field, along with a 700-pound statue named Krismas the Bear. It's an amusement park at her home but why are we even surprised?
Georgina Wilson
There are big sheep ornaments on the first family tree of the Wilson-Burnands. Do we want this in our homes too? Yes, are you kidding? Who doesn't want something that makes us feel like children again? I wonder how the second Wilson-Burnand Christmas tree will look.
Beyoncé
This one is a bit of a cheat because the first condition you need to pull this off is to be Beyoncé. After that, you need a tall tree, glamorously decorated. You then follow it up with more ornaments all over your house, all of which are bathed in glitter. Last of all is the reindeer headband. Duh!
Kim Chiu 
https://www.youtube.com/watch?v=qn5vNDbc7hw
If we learned anything from last year, Kim Chiu takes Christmas seriously. Last year, she had a pink-theme going for her which she says took her a month and a half. This time, she kindly documented her Christmas tree process which now has a blue theme complete with a polar bear tableau.
Mariah Carey 
Granted, Mariah spent her last Christmas in a place via AirBnb but still… is there a special Mariah category we don't have right now? Those two Christmas trees are massive to say the least. Then again, would Mariah pick anything less? You have to remember, this is the woman who coined the term "festivating" and is behind the album you always play during this season.
Vanessa Hudgens 
If you don't have a sleigh in your house, you are missing out. Look at how many ways it makes for a good Instagram photo. Vanessa is doing it right among the many gifts laid out in front of her. Now, is this the new form of transportation I need this season. Hold on, we're looking for a way to get some reindeer to go with the sleigh.
Art by Lara Intong
Follow Preen on Facebook, Instagram, Twitter, Snapchat, and Viber
Related stories:
Bookmark this DIY Felt Snowball Project for Extra Holiday Cheer
Where to Christmas-Shop to Become the Best Gift-Giver Ever
The Old and New During Christmas Season
7 Candles that Will Make Your Home Smell Like Christmas