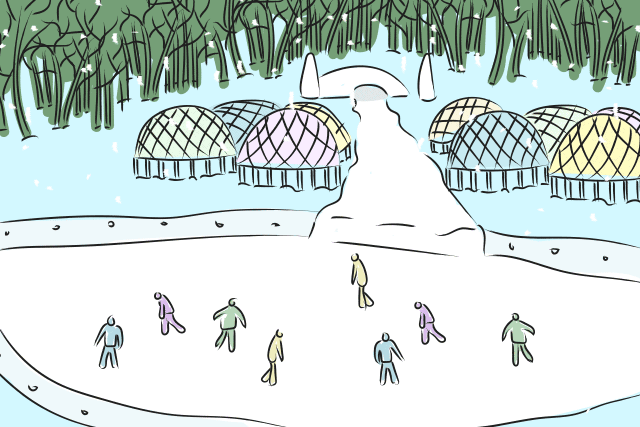 With the holiday season coming up, it's time to start planning your Christmas vacations. Whether you're going with family or friends, there are many destinations to choose from. During this time, you can visit a place that has snow and enjoy winter activities and pile on as many layers of clothing as you can. If you don't like the cold, you can always opt to travel to an island where you can go on donkey rides and walk on the beach as you watch the sunset. Whatever your preference, we thought we'd give you some choices to narrow down your list. Read through and let us know where you would like to go.
Hoshino Resorts Tomamu, Japan
If you're looking to escape to a place that's cold, consider the Hoshino Resorts Tomamu in Hokkaido, Japan. This attraction is only open during the winter time, which starts on Dec. 10 until mid-March. Here you can enjoy everything made of ice like the ice chapel, sweets cafe, and flower gallery. They also have a skating rink, slide, and snow and ice studio.
For more information, visit their website.
Bali, Indonesia
For those interested in a beach destination, add Bali to your list. You can book tours and activities like a dinner cruise or dune buggy adventure. You can also opt to plan your itinerary and visit the different beaches. For something more relaxing, try visiting temples or book a few spa treatments. Kimi Juan is also a fan of Bali, she has been seen riding horses on the beach and enjoying delicious meals.
For more information, visit their website.
Girdwood, Alaska
Girdwood is a small mountain town in Alaska. During the winter time, you can opt to book a bike tour that you customize based on what you and your group would like to see. You can also visit the wildlife conservation center where you get to see moose, bears, elks, deers, porcupines, and more. At the end of the day, you can relax and grab some beer at the Girdwood Brewing Co. They serve craft beer and has a panoramic view of the Chugach mountains.
For more information, visit the website.
Playa del Carmen, Mexico
Whether you choose to stay in a luxury resort or a quaint hotel, you are sure to enjoy Playa del Carmen. From snorkeling to jungle buggy adventures, there's an activity available for everyone. Book a luxury sailing cruise where you will travel along the Riviera Maya coastline and get the chance to snorkel. For adrenaline junkies, visit the Selvativa Park where you'll be able to climb aerial bridges and enjoy a cenote swim.
For more information, visit their website.
Santorini, Greece
For a romantic getaway, start booking your trip to Santorini, Greece. One of the most popular activities is taking a donkey ride in Fira and Oia. You can also visit the different beaches like Kamari and Perissa to watch the beautiful sunsets. For ultimate relaxation, take a dip in their hot springs.
For more information, visit their website.
Seoul, Korea
Seoul is a great place to visit all year round but try to make your way there for Christmas. From Times Square to Seoul Plaza, lights and Christmas decorations can be found everywhere. If you're traveling with your family, take some time to visit the Christmas festivals in theme parks. One is the Lotte World Christmas Miracle. Here, there are concerts, parades, and musicals along with Santa's Village. Another is Everland, where part of the Christmas fantasy is the lighting festival. There is a tower tree with bright lights, a milky way, and a moonlight parade.
For more information, visit their website.
Art by Lara Intong
Follow Preen on Facebook, Instagram, Twitter, Snapchat, and Viber
Related stories:
Mapping Out Italian Landmarks With Seve Soriano and Olivia Reyes
5 Things You definitely Have to Do in Singapore
9 Honeymoon Destinations for the Adventurous Couple
Why Nyhavn Should Be Your First Stop When You Visit Denmark