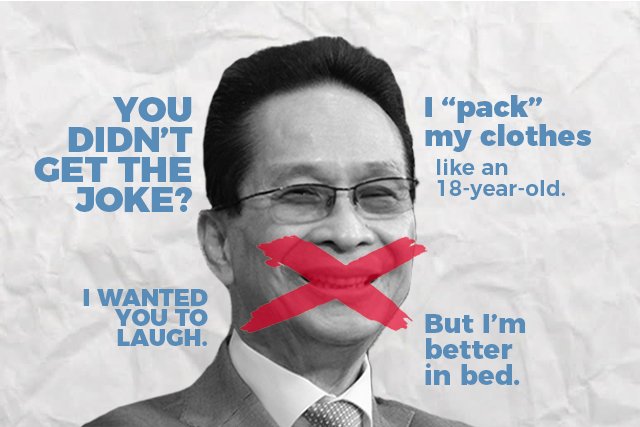 Previously, we shared an interview transcript of Presidential Legal Counsel Salvador Panelo with Swiss National Public Radio's Karin Wenger and local correspondent Ana Santos. In it, Panelo made a sexual "joke," saying that he "f*cks his clothes." Even repeating it because the correspondent apparently didn't get it.
Panelo clarified to ANC earlier that what he meant was "pack" his clothes and that it was simply an "interplay of words, even the spelling was wrong." He added that the joke is when he pronounced pack with an F, and that the writers were being "biased and anti-administration" for not understanding it. News flash: It doesn't matter who we voted for to find that find that joke rude.
First of all, that cover-up didn't save Panelo from the fact that he made an inappropriate remark. Sure, "packing" his clothes makes sense in the context that he likes to travel. But let's not ignore that his previous statement was "I'm better in bed" and "I f*ck like an 18-year-old." Take note that he said this when asked about his talent in piano. Let's not leave out that bit of context.
Panelo then accused his interviewers and the writers (aka, us) that they misconstrued what he said and "put me in a bad light as well as the President." He repeatedly emphasized that it's merely a joke that he's been saying for a long time to make people laugh. (Really?)
This isn't about who's pro or anti-administration, Mr. Panelo. You made a bad and clearly lewd joke, and you just admitted to it. You don't have to pull the victim card and say people have been nitpicking at your and other government officials' words to antagonize you. No one gave Pres. Duterte a free pass when he said multiple rape jokes. You being inappropriate during an interview is not an exception just because your "conscience is clear" and you're "doing your job."
The problem here aren't the people who are calling you out. It's how you acted unprofessionally and pitting the blame when you're at fault in the first place.
This whole "It's just a joke/banter" excuse is, quite frankly, getting so old. If people of power don't want to be criticized, then they should just stop making gross comments during interviews and press briefings. Period.
Art by Lara Intong
Follow Preen on Facebook, Instagram, Twitter, Snapchat, and Viber
Related stories:
Duterte's Chief Legal Counsel Includes Sexual 'Joke' In International Interview
Agot Isidro, VP Leni Robredo, and Chelsea Clinton Aren't Laughing at Duterte's Rape Joke
Someone Made a Viral Rape Joke, But Why Am I Not Laughing?
Why 'Boy Talk' Is the Worst Excuse for Sexual Harassment
Men Making Fun of #MeToo Ironically Prove the Problem