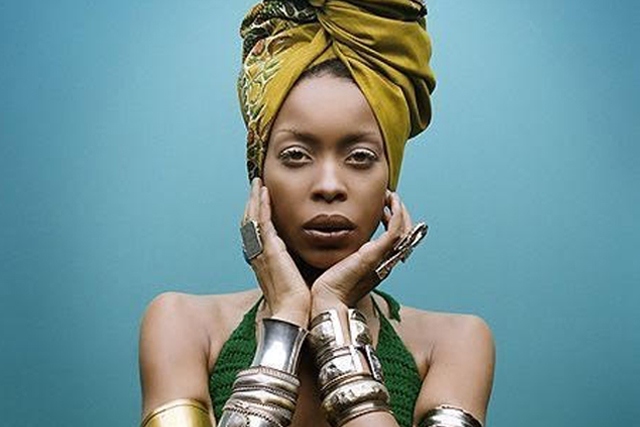 After announcing her tour dates in July, Erykah Badu is finally making her way to the Philippines. Her show in Manila will be the last stop of her Badu vs. Everythang tour. She started with a performance in Birmingham, making her way around the states and also Japan. If you're still thinking about getting some tickets, here are some reasons why you should catch her live.  
#1 Her music
Erykah Badu is known as the queen of neo soul and for good reason. In the 20 or so years of her being in the music industry she has released five studio albums, won four Grammy awards, and has toured all over the world. Her songs range from r&b, soul, and electronic. She has also collaborated with other artists like Common, Flying Lotus, D'Angelo, OutKast, and Thundercat. To get you ready for the concert, you can listen to the playlist we made below.
#2 Her connection with the crowd
During her performances, Erykah makes sure to connect with the audience. During a performance in LA she tells the crowd, "I've been traveling eight months out of the year for 20 years 'cause that's what I love to do, connect with you." Any artist will tell you that going on tour for long periods of time is not easy. But because Erykah loves to share her music with her fans, she commits to it 100 percent.
#3 20 years of Baduizm
This year marks the 20th anniversary of her first album Baduizm. To celebrate this, Billboard interviewed Erykah along with other artists involved with the album. In the story Erykah shared, "I was always a little ahead of my time, as they say. So I'd have to wait for people to catch up. Or wait for them to get approval from the other people nodding their heads before they actually acknowledged that, yes, this was cool." And she was ahead of her time. Listening to the album now, it could be considered as something that is timeless.
#4 Her outfits
If you have seen any of Erykah's music videos, live performances, or Instagram posts you know that she has a unique sense of style. Just like her music, she uses her outfits to express herself. She likes to mix colors, patterns, textures, making ensembles that are unapologetically her.
Erykah Badu vs Everythang Tour 2017, Live in Manila will be held on Oct. 14 7:00 p.m. – 10:30 p.m. and Harbour Garden Tent, Sofitel Philippine Plaza. Tickets are available online.
Photo courtesy of Pinterest
Follow Preen on Facebook, Instagram, Twitter, Snapchat, and Viber
Related stories:
Listen to This Erykah Badu Playlist and Get Ready For Her Concert
Why Oh Wonder's Josephine Vander Gucht and Anthony West Couldn't Say Hi to Bon Iver
What Jay-Z's All-Black, Friends-Inspired Music Video Really Means
How Oh Wonder and Kesha Are Singing About Heavy Social Issues