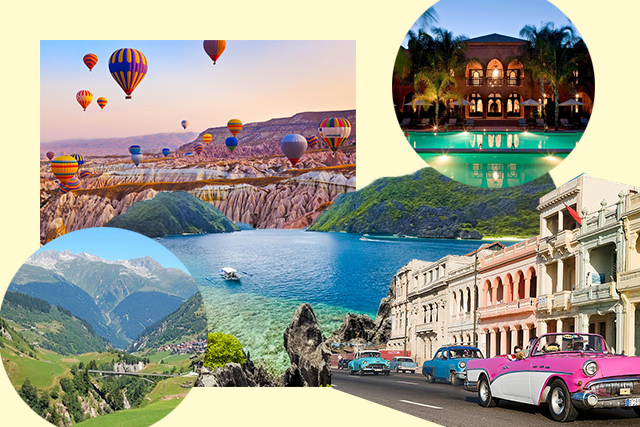 The topic of honeymoons came up as I noted to a friend how there are so many engagements and weddings going on. When you look at the celebrity landscape, we got one announcement after another from Sarah Lahbati and Richard Gutierrez, Dr. Vicki Belo and Dr. Hayden Kho, plus newly engaged couples Martine Cajucom and Cliff Ho and Chi Gibbs and Anton Cruz.
Said friend didn't ask me what I wanted for a wedding since I'm a low-key girl. We noted how the honeymoon trips of these couples must be fun and Instagram-worthy. Since a big wedding is for the family and the guests, the honeymoon is just for the couple. And that makes it a whole deal of fun, and a whole another affair to plan, book, and map out. If you're like us who are daydreaming about a getaway with a loved one, or actually on the hunt for a honeymoon spot, we put together eight destinations that you could consider, given your preference.
#1 Marrakesh, Morroco
As a major city in the predominantly Muslim country, get ready for a cultural overload here. You can visit the Jemaa el-Fnaa to get unique finds and explore the various gardens and ruins that date back to the 16th century.
#2 Havana, Cuba
The color, architecture, and the old city ways remain untouched by outside forces. It feels like you're going into a time warp which serves as a great history lesson as you explore the Havana Cathedral and the Finca Vigía, the house of author Ernest Hemingway.
#3 Machu Picchu, Peru
As a kid, I remember learning about the place from the TV show The Wild Thornberrys. It is well-known for being part of the Inca Empire and stand as a testament to the architectural prowess of a lost civilization. Get ready to geek out.
#4 Graubünden, Switzerland
For Alpine views, a luxurious array of summer colors, and first-class spas, this place should be on your bucket list. It's a local's favorite destination too in the European country so it's a safe place if you don't want to get stuck with the usual crowd.
#5 El Nido, Palawan
It would be a sin not to include Travel + Leisure's best beach in the world in this list. What's not love about the pristine waters and greenery? You can swim, snorkel, and laze in this place, plus skip the long international flight, too!
#6 Zagreb, Croatia
Conde Nast Traveler votes this city as the best in Croatia. It is a tourist's dream, they say, with "pedestrian-friendly streets, museums, and galleries, outdoor cafes, and an ancient fortified center that rivals Budapest and Vienna."
#7 Santorini, Greece
Black sand beaches, friendly communities, and delicious cuisine are what call people to this place. The beautiful beachside white and blue structures which house different boutique hotels that are both homey and luxurious are enough to set the romantic mood you and your partner may be looking for.
#8 Cape Town, South Africa
Two things attract me to this place: the cable car ride which will give you a good view of the harbor city and the trip to Robben Island, the prison-turned-museum where Nelson Mandela was once exiled.
#9 Coppadocia, Turkey
Lonely Planet describes the unique landscape of Coppadocia, "People have long utilized the region's soft stone, seeking shelter underground and leaving the countryside scattered with fascinating cavern architecture." To see the impact of it as a whole, you can even take a hot air balloon ride while sipping on some champagne. After, you can take a rest in an underground hotel.
Art by Lara Intong 
Follow Preen on Facebook, Instagram, Twitter, Snapchat, and Viber
Related stories:
Chi Gibbs Spills the Details on Her Surprise Engagement
Guess Where Sarah Lahbati and Richard Gutierrez Plan to Have their Wedding
All the Travel Essentials for the Modern Mom
Why Some Women Go for Hostels When Traveling
7 Things You Need to Stay Fit While Traveling