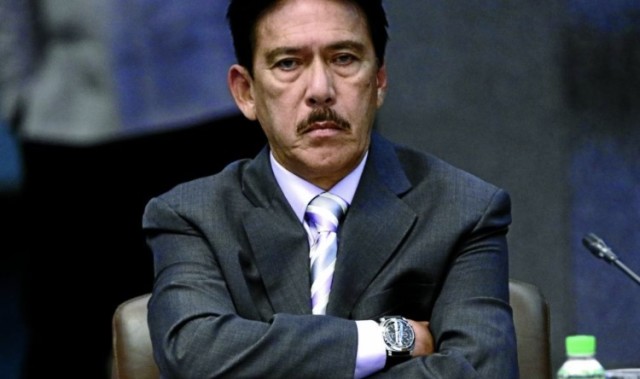 There's one good thing that came from Sen. Tito Sotto's crass remark about Sec. Judy Taguiwalo's status as a single mom, it's how netizens are sharing their admiration and pride for single parents.
Social media was awash with comments and posts about life as a single parent. Some even pointed out how they just don't fulifill the job but exceed expectations.

Our heart is big but the heart of a single parent is bigger.

— Team AMDG (@TeamAMDG) May 3, 2017
Others point out how it is a choice for some people that they shouldn't be shamed for.
Here's to all the single parents and the children that they raised.

They're not lesser citizens, Tito Sotto.

You sexist plagiarist.

— Juan Carlos Ojano (@carlosojano) May 3, 2017
Being a single parent is WAY better than being a 1. Rapist 2. Plagiarist 3. Judgmental 4. Heartless human being. BAT KA NAMIN SENATOR

— Tin (@tinotapos) May 3, 2017
Being a single parent is not a shame. She raised her kids by her own, she's a strong woman, I'm proud of her. Stupid Sotto doesn't know that

— Jen Rose (@j3nr0se) May 3, 2017
https://www.twitter.com/dyovs/status/859657381940084737
Children of single parents were unabashed in sharing how proud they were proud of their mom or dad.
https://twitter.com/lngcrn/status/859718934370570241
My single dad worked tirelessly to send me and my brother to the best schools possible while paying of debts and battling diabetes. pic.twitter.com/ariNqSm3Eb

— binsu (@binsu_) May 3, 2017
https://www.twitter.com/BeaIsabelle/status/859708693134196736
And even those who were raised in a house of two parents still came for Tito Sotto and his remarks. They also pointed out how his own child Ciara Sotto is a single mom.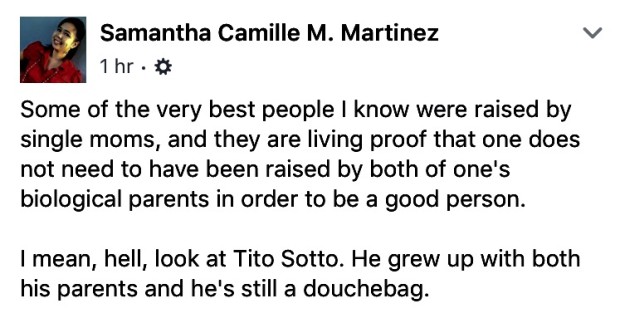 So if there is one thing Sotto can take from this is how his insensitive jokes can unite us more against him. And that single parents are awesome.
Photo courtesy of Inquirer.net
Follow Preen on Facebook, Instagram, Twitter, Snapchat, and Viber