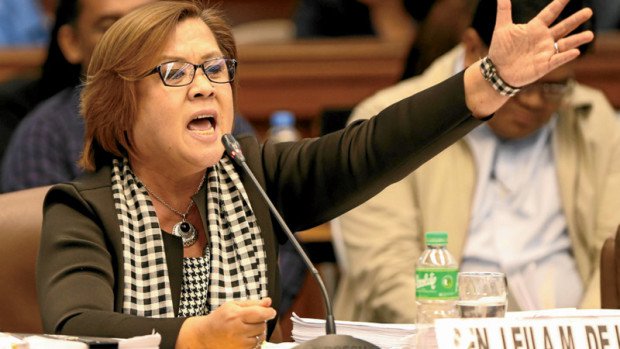 Sen. Leila De Lima was kicked out as chair of the committee on justice at the Senate following a quick series of events that happened on Monday. The ousting comes at the height of the hearings against the extrajudicial killings and upon De Lima presenting a witness linking President Duterte to the Davao Death Squad.
Sen. Alan Cayetano delivered his privelege speech in which he accused Sen. De Lima of discrediting the Philippines and the president. He also called her biased, thus incapable of delivering her duties as chair. De Lima walked out of the Senate as Cayetano was delivering his speech.
Sen. Manny Pacquiao then moved for the chairmanship to be declared vacant, leading to a majority vote of 16-4. Sen. Richard Gordon was then voted as new chair of the committee while Sen. Panfilo Lacson will serve as his vice-chair.
The hearing on the extrajudicial killings will still continue and Sen. De Lima has promised that she will still perform her duties as a senator.
It's been a series of crazy events for the senator, after battling accusations from the president about being a drug lord herself and financing a lover.  All of which still don't help the fact that the kill list grows every single day, a war on drugs that is without regard for human rights and is very protective of its leader.
We hope Sen. Gordon does well as chair and will help put an end to the killings in the name of his committee.
Photo courtesy of Inquirer.net
Follow Preen on Facebook, Instagram, Twitter, Snapchat, and Viber