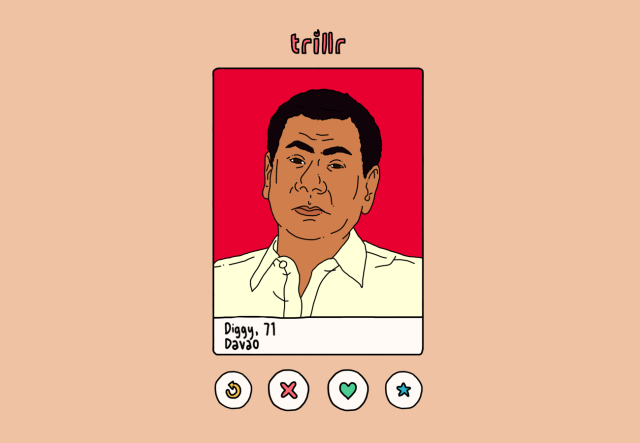 This column may contain strong language, sexual content, adult humor, and other themes that may not be suitable for minors. Parental guidance is strongly advised.
"Mom, I'd like to bring my new boyfriend over for dinner so you can get to know him.  His name is Diggy.  I don't know, but I have a feeling he could be the one.  He's different from all the other boys I've gone out with.  I mean, he didn't, like, go to Wharton or Harvard.  He's a bit, well, he's a bit unrefined.  Rough.  But that's what I like.  He's so authentic.  No airs.  What you see is what you get.  You know what I'm saying.  He's a straight shooter.  No bullshit."
"No, Mom, I'm not going downmarket.  You're such a snob.  Just because he didn't go to the 'right' schools, doesn't hang out in Polo and works in security doesn't make him any less worthy of consideration as a future husband…. Yes, I know you thought he was like Manny when I said Diggy worked in security.  Security, Mother, not securities.  He doesn't work in a bank.  Or one of those big corporations.  He's a simple guy, but he gets things done.  He's a man of action."
"Manny, oh my God, Mom, I know you love Manny, but that was over a long time ago. Stop hoping he will finally become a man of action and propose.  In fact, that was the one thing that used to drive me crazy about Manny.  He analyzed every little thing before he would make a decision.  And honestly, he was a bit boring. Reliable, solid, honest, smart…. Everything that anyone would want in a husband but just—just too bland sometimes. I didn't even know how BPOs worked until he set up one here and explained the whole thing to me.  I fell asleep halfway through but you know, he was right about investing in that business.  Look how his own company has grown.  But he's just so blah.  I know he loved me but he just didn't excite me so much.  It was really time for a change."
"Don't remind me about JJ, Mom, really. That was never anything serious. Yes, he was short, dark, and shifty. I mean, where did all his money come from? He always denied it belonged to him.  But he was like a fake man-of-the-people type. Those business deals he used to make… for the good of the poor people, he would say.  I saw one of the contracts he got for a building. Overpriced, if you ask me. Obscenely overpriced. And those bodyguards! Why did he need them? I admit it was nothing more than flirtation but I'm so glad I never considered him seriously."
"Did you have to bring up Gracie?  Really, Mother? I told you, there was nothing there, we were friends, that's all.  It was just a time in my life when I was so sick to death of all these asshole men who were all the same—full of empty promises. I thought it was time for a change, you know, to just not even have to deal with men and their bullshit.  She was full of heart, she seemed to listen to me with real sincerity, but she was also kind of wishy-washy.  And her story kept changing. And she kept talking about her ninongs who were pretty shady people, if you ask me.  And this thing about how important it was to her to honor her father's legacy… I don't know what legacy she was talking about, honestly.  For someone who believed in sincerity, she was also kind of opaque sometimes, you know what I mean?"
"But Diggy, Diggy is the real thing, Mom, trust me. He's a little bit coarse, I know.  I mean, he told the Pope to f*ck off, can you believe? But he's not a hypocrite.  He's an equal opportunity offender, I like to say.  He shot a guy, once he told me, because he was peddling drugs.  Diggy has no time for criminals.  He wants to live in a country where the streets are clean and there's no crime, and everyone follows orders.  Clean it up, he says, and ask questions later.  Or if they ask, he'll just shoot them, too."
"It's really exciting being with him, Mom. I know he'll keep me safe.  He looks after me really well.  He lives really simply, but you know, he always makes time for happy-happy. And there's this really sweet pastor who admires the work he does in security and gives him cars, gifts, money so it's not like he can't take me out to nice places. He even told me he has secret accounts where his money is kept for safety.  Haha, maybe I should tell him to give his money to Manny to invest.  Manny's hedge fund has been yielding over 6.5 percent growth in the last six years, amazing, really.  But, yeah, he's so boring."
"Okay, I know Diggy has a foul mouth, but he's real.  He told me about his ex-wife and other girlfriends.  He was honest from the start. He says that men are men, that's the way they talk.  Did you know he tried to save this poor woman who had been gang-raped and murdered by a really brutal group of thugs?  He said he was so angry he didn't arrive in time.  He was so angry and the woman was so beautiful, he should have had a go at her first before those f*cking bloodthirsty rapists.  Because he would have spared her life.  That's how fearless Diggy is."
"What red flags?  Stop being such an alarmist and a snob, Mother. He's the real thing.  He has guts.  He says things that people are afraid to say. I know about the other women.  He says he is careful.  He makes sure he is clean and free from infections. Of course he's a bit older than me and he needs Viagra sometimes, but that's what makes it exciting, he's so full of energy.  F*ck all the haters."
"No, I'm not leaving him.  Yes, Manny will take me back, but I want change.  Life with Manny is too much on the straight and narrow.  With Diggy, it's a f*cking rollercoaster ride, and you know, you have to admire someone who can say "p*tang ina mo" to the establishment."
"He's not going to cut my freedoms, he respects me.  F*ck you, Mother, you're just saying that because you're jealous that I've found someone at last.  Yeah, and so what if he molested the maid? You think that doesn't happen in upper-class households?  Please stop being a hypocrite."
"Mother, I hate you. Why do you always have to be right?  What was I thinking? Did I really have such little self-worth that I actually thought Diggy was the one who would save me? From what?  Any changes I need to make in my life, I can do it myself. And you're right too about him not really respecting women. Can you imagine the kind of children we would have had?  Trigger-happy, power-tripping, foul-mouthed children with more fake swagger than brains.  Where, oh where are all the decent men? Is it too late to find someone who will respect me as an equal?"
"And anyway, if I'm being completely honest, the sex wasn't that great.  The old man couldn't get it up without Viagra. Besides, he had a really small dick."
"Happy Mother's Day!"
B. Wiser is the author of Making Love in Spanish, a novel published earlier this year by Anvil Publishing and available in National Book Store and Powerbooks, as well as online. When not assuming her Sasha Fierce alter-ego, she takes on the role of serious journalist and media consultant. 
For comments and questions, e-mail b.wiser.ph@gmail.com.
Disclaimer: The views expressed here are solely those of the author in her private capacity and do not in any way represent the views of Preen.ph, or any other entity of the Inquirer Group of Companies.
Art by Dorothy Guya