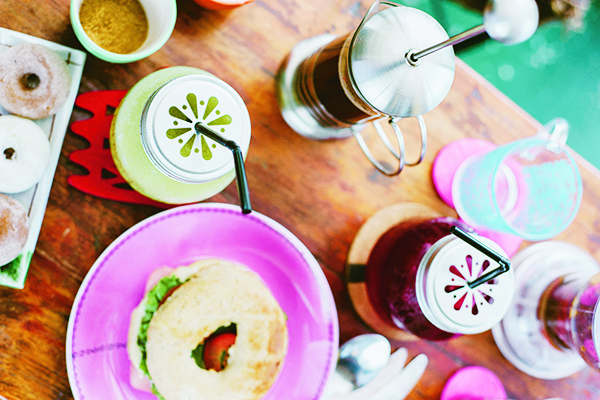 Antiteasis is a new tea room at emerging foodie haven Maginhawa. Bookshelves line the corners of the shop and fluffy pillows scatter the 25-seater as a welcoming respite for the weary and stressed-out. There is a menu made out of chalkboard which lists a few selections, deceiving the reader into thinking that their selection is simplistic. However, it is anything but with an array of over 70 tea brands from Germany offered after you select your kind of tea. The tea is then served to you in delicate tea pots or in mason jars for cold teas.
The quaint brewhouse seems like a bubble in time, with all the goings-on along the busy streets of Maginhawa passing by. Other libations like Apple Basil Smoothies and Kalinga coffee via French press in chic cups are also available. Freshly baked donuts, bagels, and pastries are on offer in case you need something to fill you up while browsing the charming reading selections.
Antiteasis Books and Brews. Unit C, 154 Maginhawa St., Sikatuna Village, Quezon City. (0906) 342-4599.
Source: Nikki Natividad for Northern Living, "Antiteasis: Storm in a cup," March 2015