Few people have a personality as refreshing as that of #TeamPreenPH girl Isabel Roces-Trebol.  On a Monday morning, she was both calm and accommodating when she welcomed the crew to her home. Offering coffee and some snacks, she's used to shoots, showing how much of a professional she is being a model and currently a beauty writer. She also had already packed the makeup products she swears by separately to ease my job and that of my photographer's.
She then also talked freely about her baby,"There's a chance he'll be born this December," she says light-heartedly. "And I kind of don't want that because she won't get as many gifts." Her pregnancy  gives her that glow that all falls in line with her belief about beauty. "I feel we've become so attached to makeup and Photoshop that we all too often forget that beauty can be seen without it."
Describe your approach to beauty.
I firmly believe that what we take in greatly affects us both physically and spiritually. For me, it all stems from a healthy and vegetarian diet. When you take care of your body, it, in turn, takes care of you.
If you had to prioritize skincare or makeup, which would it be?
Skincare! If you get the skin right, whatever you apply after will look even better! Makeup can do quite a lot, but applying it can be costly and tiring if you depend on it to hide imperfections. The real key is to invest in your skin.
Who is in your beauty black book?
For hair, I run to Alex Carbonell for wash and wear, color and cuts. I call on Philip Tordjman and Moussa Abdayem (Emphasis Salon) for absolutely amazing highlights and layered cuts.
For makeup, I am a fan of the work of Juan Sarte, Gela Laurel, Robbie Piñera, Paolo Maranan, Ting Duque, Lala Flores, and Bianca Valerio.
When it comes to skin, I enjoy going to Chi Spa, Mandala Spa , The arm at San Benito, and Neo Day Spa. For my body, it's Belo and Flawless. For my nails, it's Beauty & Butter, [but I also] I do my nails.
When did you feel your most beautiful?
I think making a lifestyle change to a vegetarian diet has had the most positive effect on how I feel about myself. I've been vegetarian for 24 years now, and it's the best thing I've done for my beauty regimen.
Once I switched to a plant-based diet, my skin turned from dull and dry to bright and radiant, and I haven't gotten zits or rashes since—my skin even feels more elastic!
[I firmly believe] that beauty comes from within, and for me, it all stems from a healthy vegetarian diet.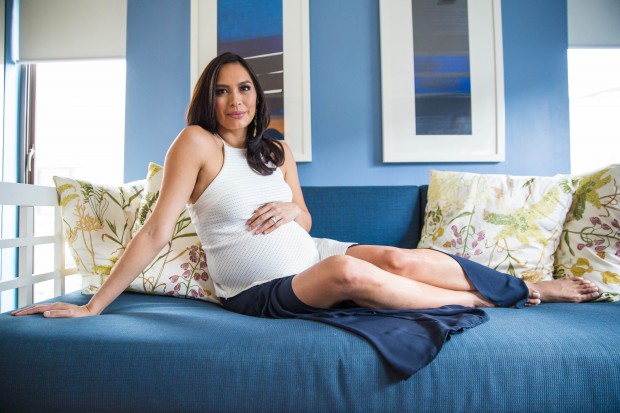 As a morena beauty, which colors and products work best for your skin tone?
I feel the only colors morenas should really avoid are the pastel metallics for the eyes. These should be left to girls with fairer skin. All other shades look great when put together properly.
As a vegetarian, what are your top eco-friendly brands?
I love products that have the same ethical stand that I do—they must be cruelty-free (no animal testing) and are safe for the environment. I look for brands that are natural and don't contain ingredients that could be harmful to my body.
These are The Body Shop, Origins, Pixie by Petra, Clarins of Paris, Clinique Laboratories, La Mer, L'Occitane, MAC Cosmetics, Revlon, Stila Cosmetics, Smash Box, Avon, Lush, Burt's Bees, Bobbie Brown, Juice Beauty, and my favorite local brands, Human Heart Nature and Messy Bessy.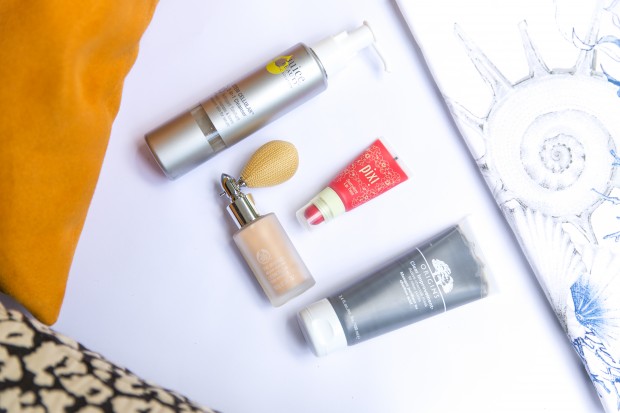 Which product is your latest discovery?
I'm recently discovering this whole new line of Stretchmark creams, pregnancy peels, and emulsions for tired legs due to my pregnancy. Clarins, Mederma, Maternea, and Juice Beauty are brands I'm testing out at the moment.
If you had a signature beauty trick, what would it be?
Hands down, regular exercise is the ultimate anti-aging secret. It helps you maintain muscle mass so your arms and bum don't get saggy; improves bone density so you don't shrink and maintain your full height throughout your lifetime; and it helps to keep your skin taut.
What's your guilty pleasure?
I really enjoy massages and mani-pedi's perhaps a little too much.
Name one beauty faux pas that women should stop immediately.
Over tweezing the eyebrows!  It's not their fault. Many aestheticians in salons are not skilled in creating a natural shape. The best brow bars I've been to are Benefit Brow Bar and Browhaus.
Can you walk us through your daily and nightly skincare routine?
I thoroughly remove my makeup in the evening and wash my face before going to bed. This leaves the skin still clean and fresh upon waking up. So instead of washing in the morning, I splash my face with warm water and massage lightly with moisturizer to revive it.
Top five lipstick recommendations
Clinique's Chubby Sticks, Benefit Bene balms, Tory Burch sheer lip sticks, Bobbi Brown, and MAC.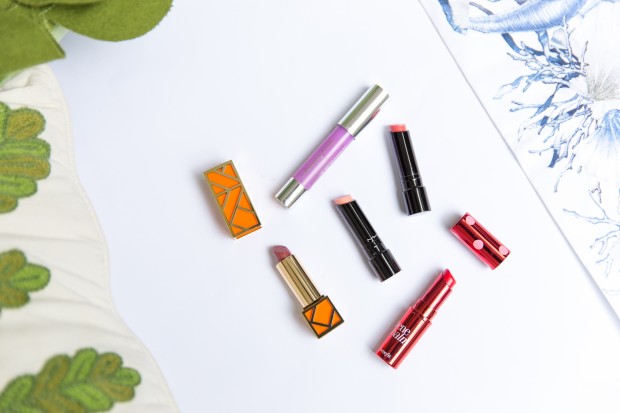 When you wake up and you're running late, which three items will you reach for?
Shu Uemura eye lash curler, Benefit Lollitint, and Bobbi Brown Skin Serum Corrector and Concealer (because they're counted as a set!).
Which treatments do you often get at your skin specialist?
I have warts removed from my face once a year because you inevitably get them if you are exposed to daily pollution, and I have a facial every quarter.
Who is one celebrity you will always look for makeup inspiration?
Among celebrities, I look up most to Natalie Portman because I find her very beautiful. She's also vegetarian, by the way. Her makeup styles are wearable. I've always found her beautiful, in both her conviction and career. Her achievements and awards are only testament to this.
What is one beauty treatment you're scared to try?
I'd be hesitant to try fillers and everything else that gets more extreme than that.
Growing up, what was your biggest makeup faux pas?
It had more to do with choosing makeup products in general, purchasing and being influenced by the fads, and not really addressing the specific problems that I needed to. I learned later on that women should identify, first, what problem they need to address. For example, with blemishes, get a foundation or a powder that has more coverage. If your skin tone is on the darker side, don't use BB cream, it will make you look grayish and zombie-like.
What is one thing you'll never do as a beauty writer/junkie?
I'll never talk negatively about a product. I always just talk about the products' strengths. If I don't like it, I'll just never write about it.
What products do you always use for your hair?
Hair oils. I've dyed, highlighted, and styled my hair so much that oils have become a necessity in my hair care regimen.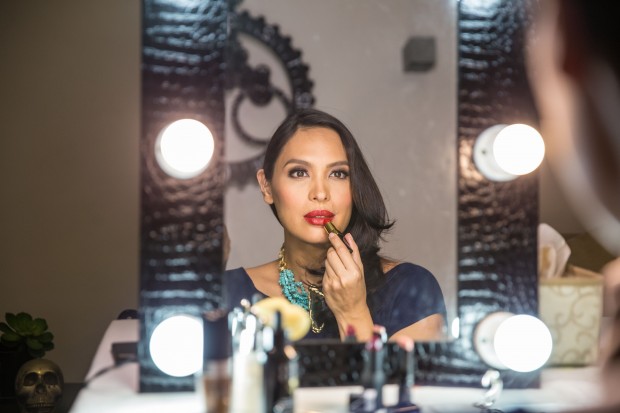 What is your favorite beauty look for an evening affair? What items do you use to create it?
Illuminated skin and red lips. Red lips have always been a staple and not just a passing trend. I love how red can now be worn with a very neutral face. I first use an illuminating moisturizer like Nars, Bobbi Brown, or MAC Strobe Cream all over my face. I then keep my makeup clean and light and let that strong pop of red lips be the focal point of my face. The best thing about this is that you use less makeup. If you feel it's too bare, keep the eyeshadow and  blush to a neutral shade like nude for the eyes and bronzers for the cheeks.
Favorite shops: Healthy Options, Human Heart Nature, Pottery Barn, West Elm, Beauty Bar, Karen Millen, and Zara.
Favorite vacation spot: There are so many, I simply can't choose one. In the Philippines, my favorites are El Nido, Palawan; Camiguin; Coron; Bacolod; Dumaguete; and Cagayan de Oro.
Favorite dish and restaurant: My favorite dish is the Veggie Burger of Green Pastures.
Favorite person on Instagram: On Instagram, I follow Kim Jones-Rosales. Her photos take me to another place.
Favorite person, period: My husband!
Favorite thing about Christmas: I love Christmas scents! I particularly enjoy candles that smell of candied ginger and spiced vanilla and coffee that smells of peppermint mocha and toffee nut. They really add to the holiday feel.
Photos by Paolo Tabuena
Makeup by Apple Faraon for MAC Cosmetics
Hair by Analou Enriquez for Bench FIX Salon