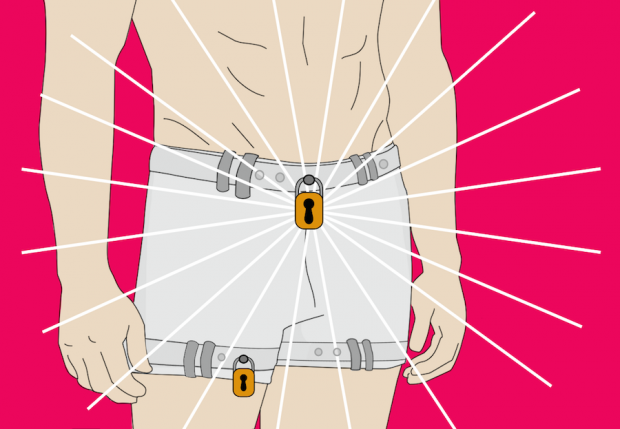 Another day, another celebrity breakup. Only this time, the protagonists—a former NFL quarterback-turned-commentator and a former Miss Universe—have been cast in a modern re-telling of the Adam and Eve story. Or Angels and Demons.
Tim Tebow, 28, the brawny, clean-cut, God-fearing son of Christian missionaries, had famously vowed to remain a virgin until marriage. He was Adam—pure, innocent, and free of sin.
Eve, the temptress, was Olivia Culpo, 23, the stunning and brainy beauty queen. Before Tim, she had dated another high-profile purity ring-wearing, saving-myself-for-marriage celebrity, the pop star Nick Jonas. By the end of their two-year relationship, Jonas was no longer sporting his purity ring, and publicly came out as a virgin no more.
The chaste man was led astray by the wily seductress, so it would seem. But Olivia's powers of seduction were apparently not enough to entice Tim to take a bite of her apple, and more.
If US Weekly is to be believed, after two months of dating, the athlete and the one-time most beautiful woman in the universe allegedly split around Thanksgiving "due to his virginity vow."
According to a "source," the reason for the breakup was his insistence on celibacy.
The source was quoted as saying: "He was sending her love letters and cute notes and professing his love for her… She had to break up with him because she just couldn't handle it. He still hits her up, but she just can't deal with the sex thing. He's pretty adamant about it, I guess."
Let's ignore for the moment the fact that reports have since surfaced that Tim and Olivia have not broken up because they were never dating in the first place, and focus on how this story is being spun to portray Tim as the incorruptible man of faith and Olivia as the wanton woman hell-bent on corrupting the virgin.
Good versus evil is the not-too-subtle subtext here, implying Olivia was determined to lead Tim somewhere he had never traveled, down the path of no return, for once that V-card gets stamped, you can never un-stamp it. But Tim's resolve was harder than his boner. Olivia may have won the Miss Universe crown, she may have won Tim's affections, but she ultimately could not win over his convictions.
Faith triumphed, and sex scampered away, humiliated.
As Barstool Sports so inelegantly put it, "Olivia Culpo Dumped Tim Tebow Because Tebow Wouldn't Give Her the Dick Sandwich."
How ridiculous! It does Olivia—and women everywhere—a great disservice, reducing her to a sexually frustrated woman ruled by desire while elevating him to a man of principle. It conjures up images of her trying in vain to seduce Tim, to no avail. Did she swan around in skimpy clothing while he knelt down in prayer, begging the Lord to give him strength not to fuck her while all the time she was imploring silently, "Lord, i-give mo na!"?
Did she sulk when he refused to go "all the way?" What was the last straw for her, if the reports are to be believed?
The reports equally do Tim a disservice, portraying him, despite his "principles", as a boy, not a man, who sends cute little love notes to the girlfriend he allegedly called "a goddess" and declares his love but won't give her the D. Naturally, that's his prerogative, even if it makes him seem one-dimensional. As Jezebel commented: "To each their own.  Tebow, of course, doesn't have the obligation to give it up; Culpo, in turn, doesn't need to wait around for anything."
And yet…
Why not allow for the very real possibility that after two months of "dating," they simply weren't a match for each other, and decided to part as friends? Is that so implausible? It happens all the time, despite the initial promising spark. Sometimes you come to that realization before you've slept together, and sometimes you come to that realization after you've slept together. Who knows? Maybe he was too much of an athlete, and she might have preferred someone more artistic or intellectual. Maybe she was too busy with her various work commitments, and he wanted someone more available. Maybe they just bored each other to death after a while.
But more importantly, who cares?
At the end of the day, it really is a private matter between the two people involved, and the media speculating on what role sex—or abstinence—played in the relationship's eventual demise is salacious and silly.
Olivia is smart, gorgeous, and accomplished. Let's be honest: she can get any dick she wants, any time, on her terms. If she wants something casual, or if she wants something serious, really, who gives a shit? It's no one's business but her own, and whether she is sexually voracious or sexually reserved, she is still completely normal and completely human and in no way diminished as a person.
Tim is handsome, athletic, and rich. His adherence to his religious convictions is admirable. If he wanted to, he could get laid any time. And if he chooses to wait till marriage, then he can wait till marriage. That's perfectly fine as well.
Now, if at 40 he is still a virgin, unable to find the woman he feels merits his first real roll in the hay…well, that's a different story.
B. Wiser is the author of Making Love in Spanish, a novel published earlier this year by Anvil Publishing and available in National Book Store and Powerbooks, as well as online. When not assuming her Sasha Fierce alter-ego, she takes on the role of serious journalist and media consultant.
For comments and questions, e-mail b.wiser.ph@gmail.com.
Art by Dorothy Guya