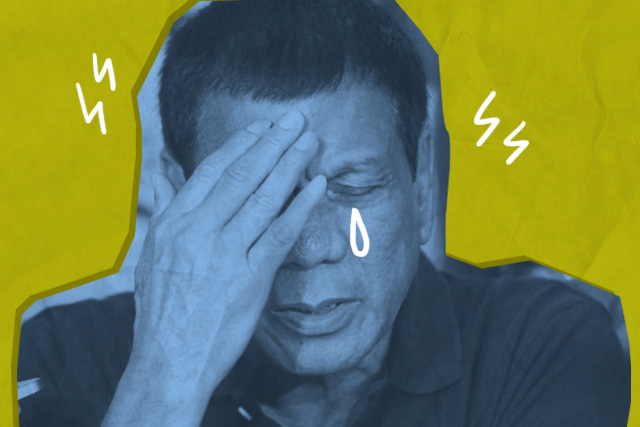 It's not the first time President Duterte went on a hard to follow tirade littered with snide and sexist comments during his midnight broadcast meant to provide updates on national concerns. However, the verbal abuse and false claims against Vice President Leni Robredo on his Nov. 17 "Kumusta Po Mahal Kong Kababayan?" address seemed like a new low for netizens who trended #DuterteMeltdown in response.
Late last night, the President convened with his Cabinet members to deliver the latest reports on the government's relief and rehabilitation efforts in regions heavily hit by typhoons Ulysses and Rolly, as well as its COVID-19 response. In true Duterte fashion, he managed to put himself at the center of the narrative by starting with an attack on the one person who had responded promptly to the crisis. "Before I proceed any further. I would like to just give caution to the Vice President. She made a blunder, a big one, and she practically lied making her incapable of truth."
He then claimed that Robredo was telling people that he was absent and not giving orders while Typhoon Ulysses was ongoing—an assertion that Robredo clarified in a tweet that she never did. "I just called out Sec Panelo for peddling fake news. I am also calling out whoever peddled the fake news to the President, kaya ganito siya ka pikon. I never said, 'Where is the President?' You can review all my tweets," she said.
I just called out Sec Panelo for peddling fake news. I am also calling out whoever peddled the fake news to the President, kaya ganito siya ka pikon. I never said "Where is the President"? You can review all my tweets.

— Leni Robredo (@lenirobredo) November 17, 2020
Netizens were the ones who trended #NasaanAngPangulo while waiting for reports on Typhoon Ulysses rescue operations. The President headed a post-typhoon briefing on Nov. 16, five days after the storm hit the country. Asked about the hashtag in a press briefing, presidential spokesperson Harry Roque said, "'Yan po ay kalokohan lang ng oposisyon."
Inquirer.net reports that what followed Duterte's insinuation was 20 minutes of him ranting against the VP. He repeatedly stated that Robredo had no authority to order troops and that he was insulted by her actions. "You are not in the line of authority, basta ganun. Wala kang… times of emergency, ako lang pati ang military. It's between me and the military [and] pagkapulis," he said. During the typhoon, the VP relayed distress calls to the army and the police from people who were mostly on their rooftops in Cagayan and Isabela. 
Apart from dismissing her efforts to help typhoon victims, Duterte kept calling Robredo weak and a liar. "Mahina ka e'. Wala ka nang [ibinigay na] order, kasi ang order nabigay na 2 or 3 days. You do not give orders on the day of the war. Patay ka," he said. It's a bit confusing how the President simultaneously belittled Robredo, demanded that she not cross a line and then criticized her for not giving orders. Is that gaslighting, we hear?
Unable to help himself from making a vulgar jab, he also insinuated that the VP stayed in a heavily-affected area for sex. "Sabihin ko tuloy sa iyo: What time did you go home? Ikaw? Nung gabi, anong oras ka umuwi. Isang bahay ka lang ba, dalawang bahay ba. Nagtatanong lang ako kasi congressman ka. Kaninong bahay ka natagalan 'yan ang sabihin ko sa yo," he said (Duh, she's VP, not a congressman. Guy can't even get simple facts right).
That puffed-up machismo deteriorated into threats: "Next time, do not make a mistake or I'll be forced to insult you because you are playing too much. Nagpapa-beauty ka. It's not the time for you," he said. "So when you'd become the president, if you want, buy some plenty of swimsuits and start to swim when the floods come."
As if that were not enough, his threat turned vicious near the end, "When you start your campaign, kung magtakbo ka ng presidente, waswasan kita nang husto (If you run for President, I'll go after you). This is your nightmare"  
Asked to respond to the backlash that followed Duterte's rant, Roque said, "Her Twitter posts making it appear that she was the one calling the shots at the time of the typhoon was completely out of order…. And the President said, under the Constitutional scheme, the Vice President is a spare tire and when Ulysses struck, he (Duterte) was in charge." 
Netizens tweeted their reactions with the #DuterteMeltdown hashtag, noting that the President again put his own agenda first, and that it wasn't the VP's job to make him feel like he did well.  
And that's it, an overnight rant just made the President reveal his true colors, he thinks about VP Leni as a competition rather than helping the people, threatening the University of the Philippines & did a sex joke to the VP. Iba talaga basta inutil. 🍵#DuterteMeltdown

— Jed Patrick Mabilog (@JedMabilog) November 17, 2020
Tonight, the country witnessed how the president put his own agenda first before the nation's, in the middle of a pandemic, right after the onslaught of strong typhoons, that made thousands of Filipinos lost their homes, livelihoods, and loved ones.

Welcome to #DuterteMeltdown

— N8 🇵🇭🇯🇵 (@TanTanerz_) November 17, 2020
Leni to Du30:

"It is not my job to make you feel like a president" #DuterteMeltdown pic.twitter.com/02gxV5Xty0

— thepopoypalaboy (@thepopoypalaboy) November 17, 2020
Duts: *MIA*

Leni: *Coordinates with different groups and agencies to send help and assures worried Filipinos that action is being taken.*#DuterteMeltdown: Do not compete with me. Do not start a quarrel with me.

Leni: pic.twitter.com/Dq9JSgdli0

— deli (@dramatwts) November 17, 2020
What do you think about the hashtag?
Art by Dana Calvo
Follow Preen on Facebook, Instagram, Twitter, YouTube and Viber
Related Stories:
Sex jokes in an official meeting about a disaster? Not cool
Dear PH Gov, take our adolescent pregnancy statistics seriously
This woman's loss shows how the government allegedly treats frontliners
3 tips to avoid gaslighting from our government