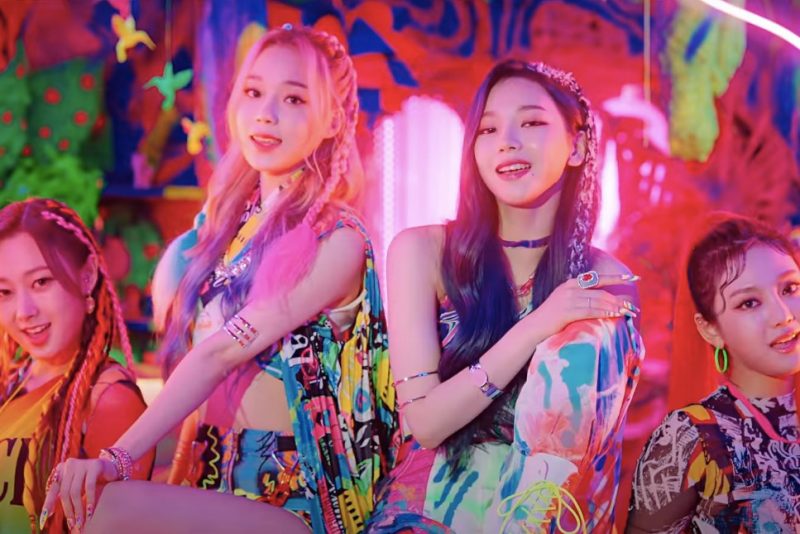 Sound the alarms! SM Entertainment's new girl group Aespa is finally here.
The entertainment giant's first artificial intelligence (AI) avatar concept, the four-member group made its debut today with the song "Black Mamba." Aespa is composed of Karina, Winter, Ningning and Giselle, each of whom have their own respective avatars. The member system is similar to League of Legends' virtual girl group K/DA where performers are characters, but not exactly. Aespa's avatars represent each of the members in the group, but are considered separate members at the same time—they have AI minds of their own and could interact with the human members through technology.
Be MY ae! Chilling all together💗 #KARINA #카리나 #æ_KARINA #아이_카리나#GISELLE #지젤 #æ_GISELLE #아이_지젤#WINTER #윈터 #æ_WINTER #아이_윈터#NINGNING #닝닝 #æ_NINGNING #아이_닝닝#aespa #æspa #에스파 pic.twitter.com/p44e7crxfe

— aespa (@aespa_official) November 12, 2020
The company's founder Lee Soo Man explained the concept in the World Cultural Industry Forum on Oct. 28. Now that the COVID-19 pandemic has prevented performers from meeting their fans in person, Soo Man said that these avatars will allow the idols to co-exist with their fans "like a living person, like a friend." 
Several K-pop stans expressed concern over how this idea may only reinforce the industry's toxic culture of obsession and sexualization. The K-pop industry has been notorious for rigorously training their idols with strict rules monitoring their appearances, behavior and skills before and even after their debut. The launch of an AI avatar concept poses the threat of reinforcing unrealistic body and performance standards that could be both harmful to the idols and the people who look up to them. These artists are not commodities, but humans with their own artistry and personal lives. We're still hoping that SM's future plans with the concept will not reinforce this culture and that the idea would be a fun experience for both the idols and their fans.
Get ready#aespa is coming!
Click the link to follow & stay tuned for more!

🎧Spotify https://t.co/pu65qy16Np
🎧Melon https://t.co/ahaLZ8RImO
🎧FLO https://t.co/kEU4GVscxt
🎧Genie https://t.co/1B7YG1g1Fh#KARINA #카리나#GISELLE #지젤#WINTER #윈터#NINGNING #닝닝#æspa #에스파 pic.twitter.com/AYJuSzJ2nR

— aespa (@aespa_official) November 12, 2020
Aespa's debut featured vibrant and colorful teasers introducing the members one by one and highlighting each of their skills. However, fans were shook when the group dropped the single's dark intro video on Nov. 14 featuring Karina in a snake-themed outfit, with jewels from head to toe and a woman creeping up behind her. The duality of their teasers only excited fans to see what the group had in store.
Now that Aespa's debut song is finally here, have you picked your bias? Check out the music video for "Black Mamba" here:
Photo screengrabbed from the "Black Mamba" music video
Follow Preen on Facebook, Instagram, Twitter, YouTube, and Viber
Related Stories:
Exo's Kai finally releases teasers for his solo debut
Get TWICE the love today with their new album and music video
Knock, knock—Stray Kids and CL both released new music videos
Watch BLACKPINK recollect their trainee days in the 'Light Up the Sky' trailer