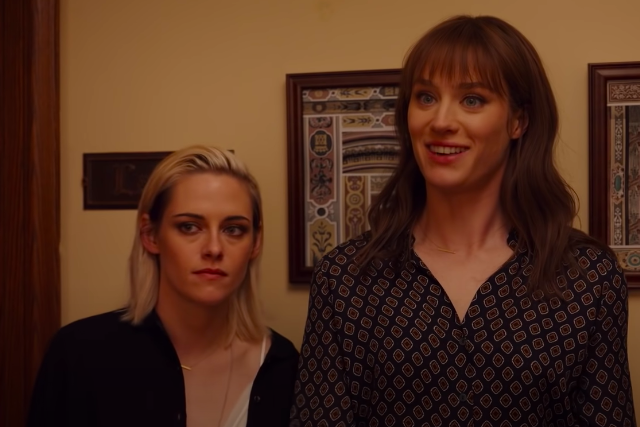 'Tis the season to be gay. Yes, we mean both definitions.  Hulu is almost premiering the most-awaited holiday movie "Happiest Season" starring Kristen Stewart and Mackenzie Davis. It's a story most gay men and women can relate to. 
This holiday, everyone's secrets are coming out. 🎄🌈 #HappiestSeason premieres November 25, only on @hulu. pic.twitter.com/hY2bGGo96X

— Happiest Season (@HappiestSeason) November 9, 2020
ICYMI, the movie revolves around lesbian lovers Abby (Stewart) and Harper (Davis) as they spend the holidays with the latter's family. There's a catch, though: Harper's parents don't know she's gay and thinks that Abby is just her "orphan friend." Yikes. 
The movie also shows us some seeing some bearding action from Dan Levy, of all people, as he tries to fool legendary actress Mary Steenburgen into thinking that he and KStew have a thing™️ going on. We also get to see Aubrey Plaza doing…something to wreck Abby and Harper's relationship, maybe.
Looks like the movie is touching on the usual beats of coming out and having to hide your queer relationships to your family on the holidays, as well as the strain that puts on a relationship. It's not a particularly new topic, but the trailer does promise a nuanced take on it—in some of the scenes shown, the characters acknowledge how painful it is for Abby to lie and be her girlfriend's secret when she's already so out, but it doesn't seem to be demonizing Harper for wanting to pretend to her family. Oftentimes, as queer people, we have to accept that even if we're out and supported by our families, our partners may not be so lucky.
I think this is a great movie to watch with your family this holiday season. It's a good way to convert your loved ones to be more open about people choosing to step out of the closet. And who knows, you might just be helping out someone in your family. If you're hooked, don't miss the premiere of "Happiest Season" on Hulu on Nov. 25. 
Screengrab from the "Happiest Season" trailer
Follow Preen on Facebook, Instagram, Twitter, YouTube, and Viber
Related Stories:
Celebrate gay Christmas with Kristen Stewart and Mackenzie Davis
Kristen Stewart was my gay awakening
The stakes are high for Kristen Stewart as she takes on this royal role
Kristen Stewart taking off her heels at Cannes is all of us