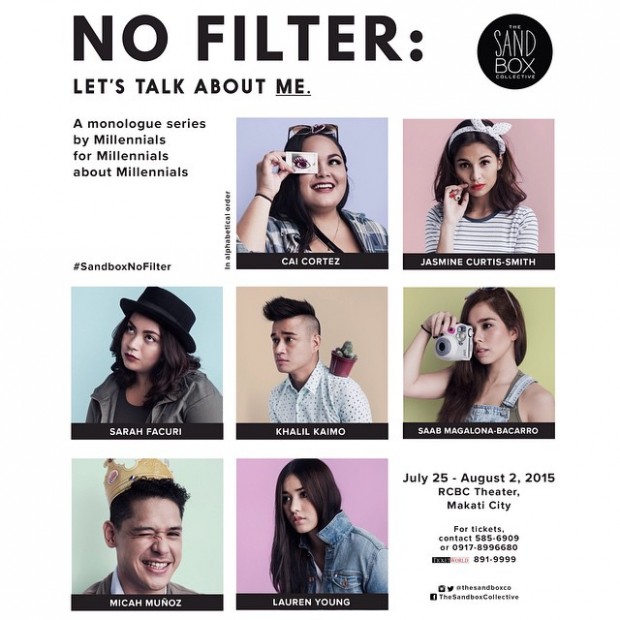 Let's get one thing out of the way: if you need further proof that millennials love nothing more than to talk about themselves, the Sandbox Collective's newest play is living, breathing proof. Entitled No Filter: Let's Talk About Me, it's a series of monologues and dialogues that represent the struggles, failures, and glories of being a young person today.
Honestly, I came in a little worried that this play would be annoying. I mean, let's take a moment and acknowledge that the whole concept kind of is. Don't you think enough think pieces on being a millennial have been written already? Haven't we already moved on to a post-millennial world? (Hello, yuccies.) Aren't we tired of hearing the sound of our own voices?
Up until last night, I've distanced myself from the term "millennial," though technically, I am one. (For the Titas of Manila: First-wave millennials were born in the early '80s, while the second wavers came in the mid-to-late '80s, and the third wavers are the fetuses who were born in the '90s.)
That is until I realized that nearly the entire play was written by fellow writers who are my age, or at least, within a five-year radius. This play isn't about said fetuses born in the '90s—it was about the second wavers. My batch of millennials. #shitjustgotreal
Living in a post-Post Secret world
Remember Post Secret? That website where tortured souls could anonymously write about their angst and unrequited loves for the world to see?
No Filter is a little bit like that. While all of the writers who contributed to the play are credited, the monologues they wrote aren't indicated, so they felt like blind items: Which editor of a popular style website held a funeral for her side-boob selfies? Which magazine editor once dreamed of becoming an artista? Which advertising copywriter moved to New York to "fake her own death?" The intimate details revealed onstage were so juicy and, especially at a press preview where everyone was familiar with each other's work, the vibe was very inside joke-y.
It also feels a little bit like director Toff De Venecia and co. logged onto Thought Catalog and picked out 18 essays to  stitch into a play. And why do millennials read Thought Catalog or even Elite Daily? We want to be affirmed. No matter how far my eyes roll back at a title like "Why You Should Date a Girl Who Travels," it's no different from the other listicles I read in search of something to identify with.
Did I see myself in some of the monologues that played out onstage? For sure. Did I cringe with second-hand embarrassment with some of the gooey #feelings displayed? Those were the most entertaining bits.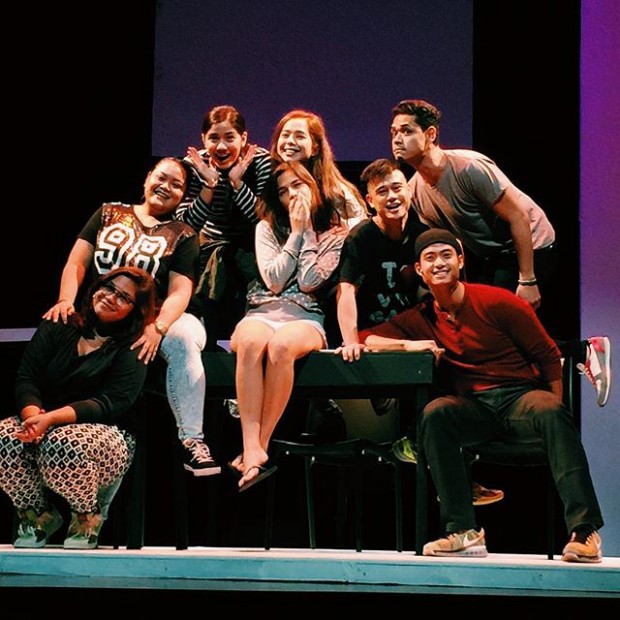 Cast of characters
In order to effectively market an original play, The Sandbox Collective needed heaps of star power. By some kind of alchemy and charisma, Toff was able to assemble a powerhouse cast featuring Jasmine Curtis-Smith, Saab Magalona, Lauren Young, and Mikael Daez, along with comeback kid Khalil Kaimo and Cai Cortez, who's played the funny sidekick in films like English Only, Please and Ang Babae sa Septic Tank.
Saab is a revelation in this play. Every beat was on-point and she had the audience twirled around her finger. The last time I saw her act was in the low-budget TV series Lipgloss, which frankly, was not her best work. But she is a firecracker playing a hot mess who is #sorrynotsorry #aboutlastnight. As a 25-year-old transplant who is utterly lost in New York—my favorite monologue—her tears come unbidden. I suggest you catch her performances in the play this weekend before she flies to Singapore.
Mikael Daez, on the other hand, does a pitch perfect portrayal of a timid closeted gay. It's the kind of performance I wish I could have recorded and posted on YouTube so I can watch it again and again. I can't remember the last time I've guffawed that loudly in a theater.
Of course, the thing everyone wants to know is, is Jasmine Curtis-Smith any good? After she knocked it out of the park in Transit, her first indie, it comes as no surprise that she is a great addition to the No Filter cast. She's an adorable little bunny who bounces around the stage playing an anxiety-ridden fresh grad and an out-of-it stoner. The girl's got charm to spare, and even while she plays a suicidal yuccie with a bone to pick with Holden Caulfield, the audience still lets out anticipatory giggles, waiting for her to do something cute again. That kind of stage presence can't be taught.
Snapshots of our youth
If you think about it, a play isn't the best way to reach a generation that's been generally diagnosed with ADHD. We can't hit pause and replay our favorite parts, and there's no fast-forwarding through the ones we'd rather skip (most of which, I feel, were in the second half of the play).
It's easy to be critical and nitpicky about certain bits, but if you just manage to sit still, you'll see what's happening: the play is one giant selfie—a "groupfie," if you will. It's one more attempt of my self-fixated generation to immortalize ourselves. As objective as I want to be and distance myself, I can see us talking about it when we've grown into fully functioning, yet still neurotic adults.
And if you're a non-millennial hoping to gain some insight into our mindset, I do feel you'll come away still confused because haven't you heard? It takes one to know one. After bearing witness, whether I like it or not, I feel I recognize myself more.
No Filter: Let's Talk About Me will run from July 25 to Aug. 2, 2015 at the Carlos P. Romulo Auditorium, RCBC Plaza H.V. Dela Costa, Makati City. Screenings are every day at 3 p.m. and 8 p.m. For ticket inquiries call (0917) 899 6680 or Ticketworld at 891-9999. For more information, visit The Sandbox Collective's official website.
Photo courtesy of The Sandbox Collective