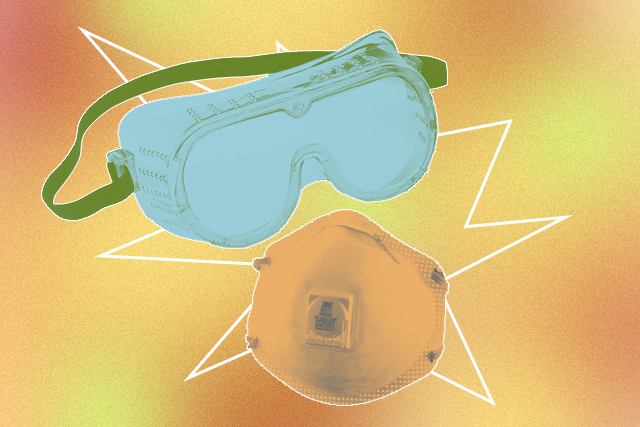 As of last night, Jan. 12, the Philippine Institute of Volcanology and Seismology (Phivolcs) issued an Alert Level 4 over the Taal Volcano. This means that a hazardous eruption may happen within hour or the next few days, prompting nearby residents to evacuate if needed and protect themselves from volcanic ashfall. People in Metro Manila and some parts of northern Luzon were also advised to watch out for ashfall.
TAAL VOLCANO BULLETIN
13 January 2020, 08:00 A.M. #TaalVolcano #TaalEruption2020 pic.twitter.com/i2k5DydDbG

— PHIVOLCS-DOST (@phivolcs_dost) January 13, 2020
When the first phreatic eruption (basically an eruption with no magma) happened yesterday afternoon, several parts of Luzon experienced ash fall. The areas that were affected the most were the cities and barangays near Taal Volcano Island. (Please donate if you can!)
How dangerous is it to go out during a volcanic ashfall? According to the Department of Health (DOH), exposure to volcanic ash may cause nose and throat irritation, coughing, bronchitis-like illness, eye irritation, and minor skin problems. Inhalation of fine ash particles can also trigger chronic respiratory conditions like bronchial asthma in children and adults.
Although there are reports that ashfall in some areas are now minimal, people are still advised to wear protective gear as a precaution. Make sure you have the following:
Face mask
If you're going out, you should wear N95 face masks to prevent the inhalation of ash particles. You can buy these in drug stores and hardware stores. If you can't find one, you can cover your mouth and nose with a wet towel, or you can put two layers of tissue underneath a surgical mask.
If you cannot find or buy N95 masks due to high demand, here is a very useful alternative:

You can put 2 layers of tissue between your face and a regular Dura mask. This improves the ability to filter tiny dust particles up to about 75 – 90%, almost the same as an N95 mask. pic.twitter.com/HpW1T1sbvK

— Melissa E. Gohing (@GOHINGMELISSA) January 12, 2020
Be warned that there are establishments and online resellers jacking up the prices of N95 masks from P30 to P200 per piece. Also, remember that face masks are reusable and that you don't need to hoard multiple boxes for yourself.
Protective eyewear
This is important for people living in a heavy ash fall zone. Goggles or wraparound-style sunglasses can protect you from eye irritation caused by the volcanic ash. If you live far from the affected areas but your eyes get irritated easily, you can also wear this just in case. Don't wear contact lenses as they might make the irritation worse if they get dirty.
If you experience eye irritation, apply cool compress over your eyes to relieve discomfort and use eyedrops to prevent itchiness.
Long-sleeved clothing
The Centers for Disease Control and Prevention (CDC) says that people should wear long-sleeved tops, jackets, and pants to minimize any contact with volcanic ash. If you're wearing any outerwear, make sure to remove the ash before entering your house.
***
Remember to stay home as much as possible during the ashfall, especially if you have existing respiratory problems. Also, close windows and doors and don't leave your pets outside. Stay safe, everyone!
Art by Tricia Guevara
Follow Preen on Facebook, Instagram, Twitter, YouTube, and Viber
Related stories:
Here's how you can donate to the Taal eruption victims
The Taal Volcano eruption is now on Alert Level 3
What to pack in your go bag
What you need to have at home for 'The Big One'