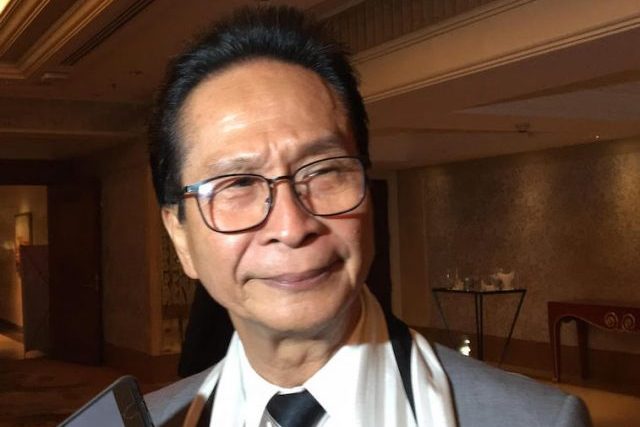 Do you ever look at people and wish you could leave them behind in 2019?
We're well aware that cancel culture can be toxic because people have used it to discredit those who don't deserve it. It also plants the idea that people will always be #cancelledt regardless if they've improved themselves and/or changed their stances.
But if we're talking about people who were already problematic way before 2019, then it's only fair to cancel them until further notice.
We're not saying we should completely ignore all of the people we've listed down below. Some of them might do or say something that might affect other people's welfare and we should stay vigilant. We've also left out the Dutertes and Marcoses because they've been cancelled in our book for a long time.
Senate President Tito Sotto
Tito Sotto is like a box filled with stupid comments. In 2019, a lot of his comments were directed at the LGBTQ+ community—from saying that schools shouldn't celebrate Pride Month because pride is one of the seven deadly sins, to not prioritizing the passage of the SOGIE Equality Bill.
Sotto has made problematic comments in the past and we wish we could just ignore him for good. However, he holds the top position in the senate, so we should still pay attention in case he does or says something that would endanger Filipinos. (We'll completely snub him once he steps down from his position.)
JK Rowling
JK Rowling has received flak for making unnecessary changes in the "Harry Potter" universe and queer-baiting. But her most recent controversy involves her support of trans-exclusionary radical feminist (TERF) Maya Forstater, whose contract with the Centre for Global Development (CGD) wasn't renewed because of her transphobic stances on social media. Rowling's tweet reads, "Dress however you please. Call yourself whatever you like. Sleep with any consenting adult who'll have you. Live your best life in peace and security. But force women out of their jobs for stating that sex is real? #IStandWithMaya #ThisIsNotADrill"
Dress however you please.
Call yourself whatever you like.
Sleep with any consenting adult who'll have you.
Live your best life in peace and security.
But force women out of their jobs for stating that sex is real? #IStandWithMaya #ThisIsNotADrill

— J.K. Rowling (@jk_rowling) December 19, 2019
Congratulations, Ms. Rowling, you just disappointed your fanbase and the LGBTQ+ community.
The Hong Kong police
#HongKong has descended into madness yet again, as protests erupt over the treatment of #China's Uighur minority.

Watch as #HK police brutalize protesters with batons and pepper spray.

This is yet another page in the history of the fight for freedom.

— Prof. Steve Hanke (@steve_hanke) December 24, 2019
The Hong Kong protests began in March when chief executive Carrie Lam proposed a bill that would allow individuals to be extradited in China. This happened after China was accused of meddling and interfering with legal rulings of pro-democracy legislators. While HK is a Chinese territory, it was granted autonomy in 1997 after Britain's rule over the city-state.
Citizens took to the streets and staged peaceful protests. But, they were subjected to police brutality as the Hong Kong police threw tear gas and beat up protesters, eventually leading to two deaths. People all over the world supported HK citizens in their fight for democracy, even going so far as to boycott pro-China personalities like Liu Yifei and milk tea establishments like Gong Cha.
Here's hoping that Hong Kong will be more peaceful in 2020 and that the citizens get the freedom they deserve.
Sen. Cynthia Villar
Sen. Cynthia Villar has been criticized for being anti-poor ever since she proposed a ban on unli rice promos. On Dec. 10, she drew more flak when she made a tone-deaf comment amid the inflation of galunggong prices:
"Kanina lang nagle-lecture ako sa mga nag-aral sa aming farm school, nag-graduation, nile-lecture-an ko sila na kumain na lang kayo ng gulay. Mas healthy 'yun." https://t.co/hdJzyMS03b pic.twitter.com/iPRjCNA53a

— Inquirer (@inquirerdotnet) December 10, 2019
Pres. Donald Trump
Why should Crazy Nancy Pelosi, just because she has a slight majority in the House, be allowed to Impeach the President of the United States? Got ZERO Republican votes, there was no crime, the call with Ukraine was perfect, with "no pressure." She said it must be "bipartisan…

— Donald J. Trump (@realDonaldTrump) December 26, 2019
Probably one of the biggest plot twists of 2019 was the US House of Representatives voting to impeach Pres. Donald Trump. Although it isn't final yet as Trump still needs to receive a conviction from the Senate, we're keeping our fingers crossed that 2019 will be his last full year as president. If not, he can still run for re-election in 2020. Ugh.
Sen. Bong Go, Sen. Bato Dela Rosa, and Atty. Salvador Panelo
These are Pres. Rodrigo Duterte's favorite men and they are also the first ones to defend the administration. The biggest controversy, of course, is the drug war that all of them have either downplayed or covered up with lies. We don't need this energy in our lives, but we have to stay vigilant as Duterte will still be in power until 2022.
Photo courtesy of Inquirer.net
For the latest in culture, fashion, beauty, and celebrities, subscribe to our weekly newsletter here  
Follow Preen on Facebook, Instagram, Twitter, YouTube, and Viber
Related stories:
LOOK: Hollywood celebs react to Trump's impeachment
Kris Aquino is done with Bong Go and Phillip Salvador's insensitive jokes
A week into VP Robredo's drug czar post: What has been said about her?
Sen. Sotto refuses to pass SOGIE bill because he can't find the words "trans woman" and "trans man" in the dictionary